After spending the winter of 2021 producing my book and the early spring getting it into the world, I needed a fun break.
Don't we all?
Instead, I decided tackle one of the biggest brand dilemmas of the year.
Who should host the quiz show Jeopardy!?
If you haven't been watching or somehow haven't heard, Alex Trebek, host of the show in daily syndication for 37 years, passed away on November 8, 2020 at age 80 after a battle with pancreatic cancer.
His passing added to the upheaval we've experienced since March 2020 for many Jeopardy! fans.
His last show aired on January 8, 2021.
Since January 11, 2021, the show has been running a sequence of guest hosts.
Replacements have included broadcast journalists Katie Couric and Anderson Cooper, Mike Richards (the show's executive producer), Aaron Rodgers (Green Bay Packers' quarterback), and Ken Jennings (winningest contestant in Jeopardy history).
The parade-o'-guest-hosts has been amusing and is scheduled to continue through at least mid-August 2021.
Just as life will never be quite the same post-pandemic, Jeopardy! will never be the same without Alex Trebek.
To move forward we must all find our "next normal."
Jeopardy! fans' next normal includes a new, regular, well-chosen host.
Both the parade of guest hosts and uncertainty surrounding the future permanent host suggest to me that the Jeopardy! brand was unprepared to lose Alex and is feeling somewhat lost now.
Let's help them out, shall we?
Jeopardy! History for $200
The Jeopardy! brand was born in 1963 on a plane during a conversation between entertainment mogul Merv Griffin and his wife Julann about the quiz show scandals of the 1950s.
Merv wanted to create a new quiz show but feared the scandals showing the outcomes had been fixed had tainted the format's credibility.
Julann jokingly suggested Merv give the contestants the answers.
After Julann tossed Merv "5280 feet" ("How many feet in a mile?") and "79 Wistful Vista" ("Was that Fibber McGee and Molly's address?"), he jumped on the idea.
I had no idea who Fibber McGee and Molly were before my research.
Art Fleming hosted the NBC and weekly syndication versions of Jeopardy! from 1964 to 1975 and from 1978 to 1979.
Jeopardy!'s Brand Adolescence for $400
By the time the show was revived in 1984, the brand was 20 years old.
You could argue the brand was in adolescence then, attempting to regain its footing by shifting from weekly syndication to daily, instituting a digitized game board, and replacing Art Fleming with Alex Trebek.
The story of how Alex Trebek got the hosting job is less brand redirection and more opportunistic moment.
One night while Chuck Woolery was hosting Wheel of Fortune, he was hospitalized and Trebek filled in last minute. Wheel of Fortune was also a Merv Griffin creation. Griffin liked Trebek's seamless performance and offered him Jeopardy!
A Sports Illustrated article from 1989 stated there were Jeopardy! purists who still regarded Fleming as "the authentic Mr. Know-It-All," and that he was accosted frequently to answer fans' trivia questions and settle answer disputes.
Clearly Sports Illustrated considered its purview akin to the corresponding Trivial Pursuit category at the time, "Sports and Leisure." How much athleticism is there to ringing that buzzer?
Alex Trebek will always be the original host for those of us who started watching when the show was revived in 1984.
What is the Jeopardy! Brand?
Art Fleming described Jeopardy! as "one big party game" and "an entertaining way to fill up 30 minutes, but basically fluff."
In his 37 years of hosting, Alex Trebek became the face of Jeopardy! and put his own take on the brand.
On the Jeopardy! website, he is quoted as saying "I think what makes Jeopardy! special is that, among all the quiz and game shows out there, ours tends to reward and encourage learning."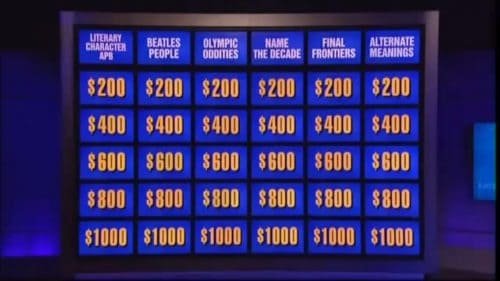 The dozens of Jeopardy! templates offered to teachers on the internet support that notion. Teachers use the game to engage students and help them self-assess their mastery of a subject.
Jeopardy! won a 2011 Peabody Award, the first bestowed on a television quiz show in more than 50 years. Given in 2012, the citation said the award was "for decades of consistently encouraging, celebrating and rewarding knowledge." It called the program "a model of integrity and decorum."
Jeopardy! Brand Identity and Values for $600
Successful brands don't happen by accident. They succeed by design.
This design includes three key elements which serve as guiding forces for the brand.
A defined purpose which describes what the brand contributes to the world.
A consistent personality defined by a unique combination of three or four brand attributes.
Clear values that stipulate how everyone on the brand team acts on the brand's behalf.
The first two elements – the purpose and the personality – constitute the brand's identity.
Based on the hosts' comments, the Peabody award citation, and my own experience watching the show for decades, I'd describe the Jeopardy! brand purpose as to entertain and educate by testing knowledge of trivia.
Jeopardy!'s brand attributes strike me as fun, educational, intellectual, and knowledgeable.
Jeopardy!'s values, which guide the behavior of the brand team including the writers who craft the questions, include integrity, decorum, research-based facts, verification, accuracy, and fairness.
Together Jeopardy!'s purpose, attributes, and values provide a context for everything the brand does, including selecting a new host.
Who Should Host Jeopardy!?
The new Jeopardy! host needs to embody the brand.
It's a tall order to be fun, entertaining, intellectual, knowledgeable, and well-behaved. Even taller to be a model of integrity.
Not every guest host has filled the order.
Amanda Hess noted in her article in The New York Times  that guest hosts have fallen into four categories: Jeopardy! champions, celebrity doctors, news anchors, and jocks.
The division of labor is not even among the categories.
According to the posted schedule, eight news anchors/journalists will get a chance to host. They occupy half of the hosting spots.
The other half includes two champions (Ken Jennings and Buzzy Cohen), two celebrity doctors (Mehmet Oz and Mayim Bialik), two jocks (Aaron Rodgers and Joe Buck), plus executive producer Mike Richards who has hosted other shows, and actor LeVar Burton.
I understand the bias toward news anchors for their integrity, intellectual poise, and knowledge. The fun factor among them? A yawn so far.
Dr. Mehmet Oz's participation prompted a group of former contests to write a letter in protest, as the doctor's personal brand attribute of pseudoscience clashed with "a show that values facts and knowledge."
Dr. Oz's hyping of hydroxychloroquine as a COVID-19 remedy on FOX news was among the more recent in his history of questionable pronouncements.
Amanda Hess advocated for Ken Jennings or Aaron Rodgers among the hosts that have appeared so far.
Jennings was pleasant.
Aaron Rodgers started out a bit stiff but then seemed to relax and enjoy the show, especially in this personal moment.
No one has stood out yet as the aha! moment choice.
Audience Favorites for $800
There is great anticipation for the last week in July. LeVar Burton will host.
Burton is an actor, producer, educator, and author whose credits include playing Kunta Kinte in Roots, host and producer of PBS's Reading Rainbow for 23 years, and playing Lieutenant Junior Grade Geordi La Forge in the television series Star Trek: The Next Generation as well as in movies based on that series.
Burton was not on the initial schedule, but producers may have been compelled to include him after Joshua Sanders started a petition for him to host.
As of this writing, the petition 254,078 signatures.
Why have more than a quarter of a million people signed this petition?
Burton's unbridled enthusiasm for reading, learning, and truthful storytelling has shone through in every role, podcast, video, and book he has created.
In other words, he checks every box in the Jeopardy! brand.
Your Brand Identity and Values Guide Your Strategic Decisions
The host the Jeopardy! producers choose will determine how the show fares going forward. With such a large franchise, it is understandable the decision would seem risky.
While it is unlikely the producers will please everyone, by using the brand's clearly defined guidelines they have a good shot at pleasing most of their audience and setting the brand up for a bright future.
I hope you can see by Jeopardy!'s example that brands aren't just nice-to-haves for marketing. They underlie everything your organization does and how it serves your audience.
Brands provide a foundation you can rely on when facing major decisions like replacing a beloved front man after 37 years.
Have you determined your brand's purpose, attributes, and values and shared them with your organization?
And who would you like to see as the new regular host of Jeopardy!?
P.S. If you haven't defined your brand's purpose, attributes, or values yet, you can find detailed step-by-step guides in my book Teenage Wastebrand: How You Can Stop Struggling and Start Scaling. Or you can call me for help.
P.P.S. LeVar Burton has my vote!
A Solar-Starr Conversation
Liz Solar is a voice talent who has been heard in everything from TV commercials to documentary and audiobook narration to animation. I was honored to be a guest on her Embark podcast recently.
We had a fun and wide-ranging conversation about how:
brand loyalty has plummeted
what companies think can differ radically from their consumers' point of view
niches benefit brands in a counterintuitive way
brands can have an awkward adolescence
ways you can tell if your brand is in adolescence now
You can listen here.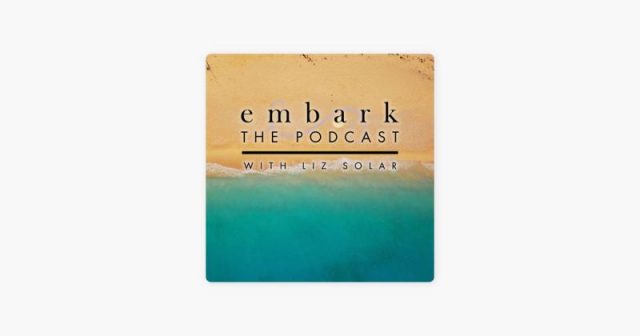 Just for Fun
On February 28, 1984, about seven months before Jeopardy!'s Alex Trebek era began, Weird Al Yankovic released his second album of parody songs including "I Lost on Jeopardy." The song is hilarious. For the full experience, pause the video to read each of the clues.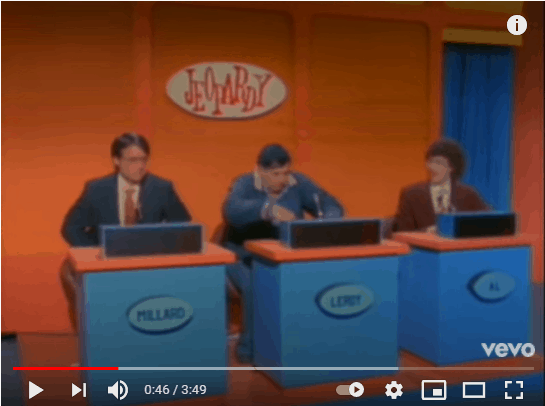 You can listen to the song that inspired Weird Al's parody, "Jeopardy" by Greg Kihn, who makes a cameo in Al Yankovich's video.
Inspired to try out for the show? Go here to take the Jeopardy! anytime test.
Or peruse the final jeopardy questions for the last 30 years here.
If you liked this post, you'll love the next one. To have future posts sent to your inbox, click here to subscribe.