Photo credit: https://www.alliekelleyphoto.com
This post is adapted from an excerpt of my book Teenage Wastebrand: How Your Brand Can Stop Struggling and Start Scaling
To celebrate my 50th birthday, I threw myself a party.
Oh, don't look so surprised. Yes, I am that young. I told you about my AARP card experience.
I love to dance, and looked to hire a DJ for the party.
Reviews on wedding website TheKnot.com raved about Spike Entertainment, and owner and DJ Spenser Brosseau. The site's reviewers mentioned how popular Spike Entertainment's photo booths and music choices had been.
When I went to Spike Entertainment's website though, the images and copy clearly targeted dances for high schools. I was confused, but I hired Spenser anyway. He did a great job.
It turns out I had caught Spike Entertainment in the midst of their brand adolescence.
A Brand in Adolescence, Started by Adolescents
Spike Entertainment began in 2006 when Spenser and a friend were in high school.
They had been to several school dances and noticed that the music was not geared to their age group. They played around with the idea of becoming DJs to make a bit of money.
Their parents ignored their musings, but once they booked a gig at one of their high schools they actually had to commit.
"For the first couple of years it was more like a hobby," Spenser told me. "Gigs came by word of mouth and were for people we knew. We spent the first year paying back what we'd spent on the equipment, and had some pocket change left over."
They hadn't studied the market and were undercharging for their services.
Spike Entertainment marketed their DJ services as specializing in school events, and only accepted school gigs.
Their marketing pitch emanated from their chosen niche, wooing prospects to bypass large DJ companies with standard stock programs for a small company that did only school dances, knew what worked there, and tailored their services to please both the students and the administrators.
In Spenser's senior year he participated in a program run by DECA, a career and technical student organization that trains future leaders. His project with them qualified his business for their international competition.
That was the moment Spenser decided to shift his DJ work from hobby status to a real business.
His partner was already in college and was not interested in continuing with the business, so Spenser proceeded on his own.
Spenser planned to serve schools all over New England, envisioning them as regular customers requesting him year after year.
But students graduated. Parent-teacher organizations frequently changed leadership. Faculty advisors rotated for school events.
It was hard to capitalize on the relationships he built, as the players were constantly changing.
He continued pushing the school-dance-only niche until 2011 when he had a moment of reckoning that perhaps DJing dances for the school market would not be enough to sustain the business.
Running with the Wrong Crowd
If you are a parent who has had teenagers, you have likely experienced situations where you wondered if some of your teen's friends were a bad influence or limiting their potential.
Adolescents' desire to fit in can lead them to tolerate groups that get them in trouble, promote bad habits or belittle their interests in favor of what is considered cool.
Similarly, brands may gain traction with the audience they envision as their target, but find later the target turns out to be a mismatch.
For brands in adolescence, I call this scenario "running with the wrong crowd."
As Spenser found, running with the wrong crowd can mean targeting an audience that is not large enough to support your brand's growth.
Spike Entertainment could not gain enough school clients to expand the business the way Spenser envisioned.
The year-to-year turnover in decision-makers who hired DJs for school dances hampered his efforts. Time spent relationship building was a sunk cost that yielded little when he needed to start a new relationship every year or when the customers he cultivated and served one year did not bother to call the next.
If you find you are unable to generate repeat business from your target market, despite hard work and significant relationship-building time, this might indicate a mismatch.
It's one thing when your contacts move elsewhere in the industry and bring you a new customer. It's another thing when your existing customers have a revolving door requiring a disproportionate amount of time from you to build new relationships to retain their business.
Spike Entertainment's Gentle Pivot
Once Spenser realized the school-dance-DJ market would not generate enough business for his company on its own, he began keeping his eyes open for ways to expand his audience.
In around 2012, photo booths began showing up at events Spenser played, and quickly became a standard feature.
A photo booth required major investment. Spenser studied the photo booth business and saw that low-ballers were going out of business, but that the better providers were charging meaningful fees.
Spenser then put together a business plan for a photo booth business and bought a booth. He kept that business separate and created a dedicated website for it. The photo booth business grew.
Diligently watching the numbers, Spenser noticed that he did fewer events in the year after getting the photo booth, but the average entertainment package he charged had almost doubled.
The following year (2014), he doubled the number of events. Yet he still had to market hard to win the school events.
In addition to boosting revenues, the photo booth business attracted some wedding clients.
As Spenser ran photo booths at weddings, he studied their ins and outs. His confidence in serving the wedding market grew.
Soon, new wedding clients asked to hire Spike Entertainment for DJ services as well as photo booth management. Spenser accepted these gigs instead of turning them down as he had in the past.
Happy Brides and Grooms Recommend Their DJs
When he analyzed the business, Spenser saw that the wedding market provided greater customer loyalty and stronger word of mouth than schools did.
Spenser prioritized the wedding market. Rave reviews on wedding resource websites TheKnot.com and weddingwire.com generated new leads.
By 2016 Spenser had tripled his business and felt established enough to hire a photo booth assistant to work with him at events instead of enlisting his parents or his girlfriend.
While school and community events were 90 percent of their gigs in the beginning, weddings now accounted for 75 percent of Spike Entertainment's business, with school events and birthday parties (including mine!) making up the rest.
Of his company's brand adolescence Spenser said, "Yes, we definitely had a brand adolescence, a couple of stages of it. When we first started out, we shot up and stayed steady for a while. But [to grow] we had to figure it out two or three times. We needed to grow into different markets and types of events."
Finding the Right Customers
If your brand is running with the wrong crowd, you might be lucky and have new market opportunities present themselves, as Spenser's friends' weddings did for Spike Entertainment.
If your brand needs a new and better market, and opportunities have not presented themselves, proactively find one.
Begin by asking yourself these questions:
Who do you want to help?
What is the problem your brand solves?
Who has the problem your brand solves?
What are the circumstances that lead to a need for your brand?
Who do you know has bought in the past?
Who are your competitors' target markets?
Where do you have existing relationships that you can leverage?
What do you know about your brand and the problem it solves from past interactions with customers?
Ideally, this list of questions would lead you to brainstorm a list of potential target markets. If you have employees, you can involve them in the process.
With your target market list, you want to be specific, but not limit yourself to demographic characteristics like age, gender, education level, and income.
Dare to be more descriptive, like "working mother with two children in public school, one car, attending exercise classes twice a week, who likes to cook and eat healthy but does not have more than 30 minutes to get dinner on the table each evening."
Or "event planner who needs budget-conscious swag to give out at the conference that looks classy but doesn't repeat what attendees typically receive."
Or "couples getting married."
Or "restaurants who want gluten-free dessert options for patrons to increase their average diner spend."
Use the Smallest Viable Market Test
Next, determine your smallest viable market size.
In his book This is Marketing, marketing expert Seth Godin urges entrepreneurs and business owners to answer this question about your brand: "Who's it for?"
Once you have identified your target, he encourages you to figure out the smallest viable audience for your idea by asking yourself, "What's the minimum number of people you would need to influence to make it worth the effort?"
Translated to your brand's growth, this means, "What is the fewest number of customers you need to make your venture viable?" Be honest about the threshold number of customers you need to sustain your brand.
Targeting a new market is a major undertaking that can make or break your brand, so this is not a great time for trial and error.
If you were running with the wrong crowd before, the last thing you want is to do it again!
Once you have your potential list of target markets and you know your smallest viable market size, take time to qualify your best choices through some research and analysis.
Realign to Focus on Your New Target Market
Once you identify the new audience, shift your brand's attention to focus on them by aligning your message and all communication efforts toward them.
Spenser renamed his company Spike Events and revised his company website to have portals for weddings, parties and events, as well as photo booths.
His main focus is clearly weddings, but event planners seeking services for school events, corporate events, and private functions can also find information easily.
Of course, you can do all that right and the world will still throw a pandemic at you.
Few sectors have been as decimated at the events industry. I checked in with Spenser recently to see how Spike Events was holding up.
At the beginning of 2020, Spike Events attracted many bookings and was looking forward to a packed schedule.
When the pandemic hit, bookings stopped cold. Spenser saw the reality of it and acted quickly. In April 2020, he and his fiancée Ashley postponed their own wedding from fall 2021 to fall 2022.
Spenser has focused on keeping existing clients by working with them to reschedule. To attract new clients, he assures prospects they won't lose money and has instituted flexible cancellation and rescheduling policies.
With the exception of a few, small outdoor events last fall, business has been dormant. Most of Spike Events bookings are for 2022.
But Spenser is both savvy and industrious. He invested in Dolly, the photo booth camper, pictured above. Dolly differentiates his photo booth business from other vendors by offering couples a unique photo booth option that doubles as a distinctive photo backdrop on the outside.
Via online industry groups, he has also built relationships with photographers and wedding planners so they can refer each other when the industry does come back.
I think Spike Events has a bright future. And who knows? I might just be calling him when my 60th birthday rolls around.
Hot, Hot, Hot
So, this happened earlier this week…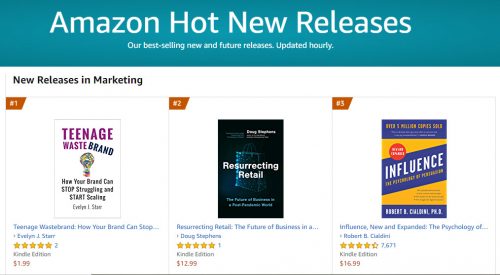 Thanks to many of you, Teenage Wastebrand hit #1 in new releases for several categories including Marketing, Marketing for Small Business, Non-Profit Management and Leadership, Small Business Entrepreneurship, Commercial Advertising, and Organizational Change.
I've been levitating for days.
Thank you to everyone who bought a copy and who emailed their congratulations. You've made this an extraordinary week for me. I appreciate you.
If you've not yet gotten your copy, you can check it out here.
Just for Fun
New England springs seem to toggle between winter and summer until summer finally sticks.
We've had a couple of 70-degree days already and flowers have risen.
As I pen this, it is snowing.
In honor of New England springs, I bring you something cold and something hot just for fun.
Bowen Yang's portrayal of the iceberg the Titanic hit had me chuckling all the way through. Hat tip to Jeannie MacDonald for mentioning it.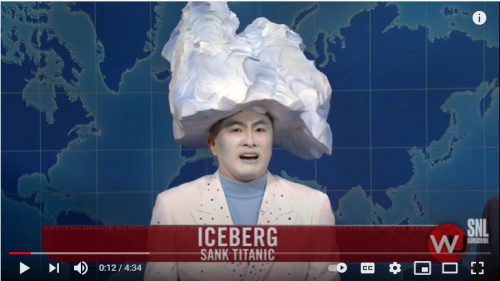 And here is a song that both conveys the peace of mind I'm craving and oozes summer. Darius Rucker's voice makes tension melt like ice cream on a perfect beach day.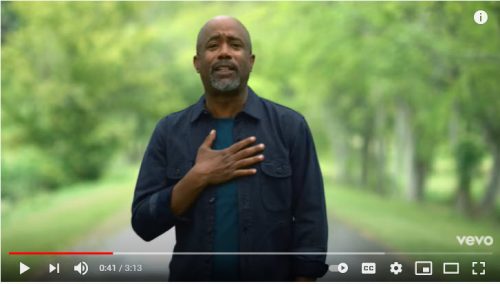 Enjoy!
If you liked this post, you'll love the next one. To have future posts sent to your inbox, click here to subscribe.