Some brides get superstitious before their wedding. Luckily that's not me.
Dan and I got married in June 1994. On the Friday that kicked off our wedding weekend, the US began hosting World Cup Soccer for the first time.
At the opening ceremonies in Chicago, host Oprah Winfrey fell off the stage. Diana Ross pulled a penalty kick left, but the goal posts had been rigged for drama and split open anyway.
Those weren't even the weirdest events that day.
They were eclipsed that evening by OJ Simpson as he led the LA police on a low-speed highway chase in a white Ford Bronco. Thirty-five miles per hour and yet the chase went on for 60 miles.
Despite these oddities, our wedding went smoothly that Sunday. On Monday we left for a two-week honeymoon in Greece.
And when we returned, Federal Express as we knew it was gone.
Federal Express Becomes FedEx Overnight
Every company truck, plane, package, and envelope from the former Federal Express now said FedEx.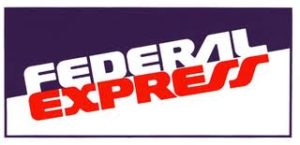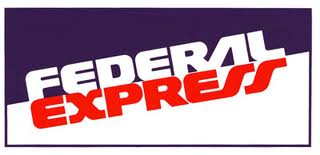 It was weird, but easy to understand. The verb "to fedex" had been in our business lexicon for a few years by then.
What a quick transformation the company pulled off. They timed it to happen overnight on June 24, 1994.
You can imagine the amount of money, time, and effort they spent to orchestrate that.

Why would they do that though? The company was growing and business was good.
Empty Boxes and a Fast Talker Help Federal Express Get Off the Ground
When Fred Smith launched Federal Express in 1973, nationwide overnight delivery seemed like a pipedream. The concept was so farfetched that Xerox shipped empty boxes for two weeks before entrusting them with document-filled ones.
The initial job of the Federal Express brand was to represent speed and reliability. Hence the tagline "When it absolutely, positively has to be there overnight."
Creative approaches to emphasizing their speed resulted in entertaining commercials starring fast talker John Moschitta.
People frustrated with the United States Postal Service (USPS) – the only other option at the time – began to give them a try.
Competition Crowds the Shipping Market
By the early 1990s, with their reliability and speed established, Federal Express was going global.
Meanwhile, competitor Emery had copied Federal Express' model by getting their own planes.
Airborne Express entered the small package air express business.
The USPS began pushing their own overnight delivery service.
United Parcel Service (UPS), the largest shipper via trucks, entered the air shipping business. DHL Worldwide Courier Express Network replicated Federal Express' US model overseas.
Though business was still growing, Federal Express found itself as a brand in adolescence with lots of competition.
Making the Varsity Team
American high schools offer teenagers the opportunity to compete in sports by fielding their best athletes on a team they designate as Varsity.
High schools often combine students from several different areas of a city or town. Many students who played a sport in elementary and middle school find themselves vying for the few spots on the high school varsity team.
Brands in adolescence can face similar competition.
When Federal Express began, they were the only overnight option. As their success grew, competitors flooded in.
Like teenagers trying to impress a coach for a spot on the varsity team, Federal Express now tried to stand out in a crowded field for their customers' consideration.
I call this brand adolescence symptom defending your varsity team spot.
How Federal Express Defended Their Varsity Team Spot
Federal Express's overnight transformation to FedEx turned out to be the culmination of two years of research and rebranding work.
Both the name change and the logistics feat reminded customers and the public that they personified speed and reliability.
But FedEx did not stop there.
In their research, FedEx no doubt heard that even with their brand promise, customers were anxious about packages arriving on time while they were in transit.
FedEx looked for ways to deepen their relationship with customers by allaying their anxiety.
They built a proprietary tracking system so customers could not only have faith that the brand would deliver on time, they could get proof of where their package was in the process.
Their tracking option proved highly desirable among customers and differentiated them from rivals.
FedEx also created the first automated package shipping system for PCs and, in the mid-1990s, was one of the first companies to enable business-to-business transactions on its website.
Noting their customers' international business dealings, FedEx expanded overseas, becoming authorized to serve China in 1995. Through an acquisition from Evergreen International Airlines, they became the sole US cargo-only carrier with aviation rights to China.
In February 2004, FedEx bought privately-held Kinko's (a document-copying and business-services store chain) and branded them FedEx Kinko's (and, in 2008, FedEx Office), giving the brand 1,200 outposts to expand their reach to customers and make it more convenient.
FedEx maintains their lead in the overnight shipping industry by constantly looking for ways to enhance their customers' experience.
When You Need to Defend Your Brand's Varsity Team Spot
How do know if you need to defend your brand's varsity team spot?
Here are some telltale signs:
1. Your marketplace has become crowded.
If your brand launched into a "white space" – a gap in the marketplace where customers' needs were not met – your success may have attracted many competitors.
While Federal Express founded the overnight delivery industry, they had plenty of competitors offering the same service twenty years later.
2. Your purpose no longer differentiates your company.
Overnight delivery was a unique – and outlandish – purpose initially. By 1994, it no longer distinguished Federal Express from its competitors.
FedEx broadened its purpose to include logistics to set themselves apart, and announced that by flipping the switch on their rebrand.
Spotify initially focused on allowing listeners to stream music legally. Once that space became crowded, Spotify CEO Daniel Ek revised their purpose to focus on supporting creativity and acknowledge both their user and artist audiences.
3. Your brand attributes have become category attributes.
Speed, reliability, and overnight set Federal Express apart in its early years. Now all players in the industry must have those to compete.
FedEx's rebrand and continued evolution have added logistical expertise, peace of mind, and convenience to distinguish them from the pack.
How to Defend Your Varsity Spot
If your brand's dominance in your niche has eroded, you'll need some strategic work to reassert your market leadership.
Clarify your brand identity and evolve if needed. Has your purpose become commonplace, like Federal Express's overnight pledge had?
Have your brand attributes become category attributes like speed and reliability did for Federal Express, no longer differentiating them?
Conduct research among your audiences (customers, partners, employees) to rediscover why they come to you and what current needs remain unmet.
See where you can serve them in new and unique ways. Revise or update your purpose and attributes if needed.
Deepen your brand's relationship with your audience by doubling down on your niche. Through research and conversations with your audience, continue to build your knowledge about them and seek to understand them more than your competitors.
Use your knowledge to serve your customers better than your competitors. FedEx discovered their customers were still anxious about their packages in transit, which led to their tracking system creation.
Address not only the functional needs of your audience but the emotional ones too. The peace of mind FedEx's customers felt when they were able to see exactly where their package was catapulted the company back to the go-to shipping choice.
For more on how to defend your brand's varsity team spot, check out Teenage Wastebrand: How Your Brand Can Stop Struggling and Start Scaling (Chapter 8).
Brand Honeymoons Aren't Forever
By initiating the overnight shipping industry, Federal Express had the market to themselves for a while. But success attracts competitors, and the honeymoon ended.
It is worth noting FedEx's 1994 rebrand was not just cosmetic but reflected real strategic changes in the company. Companies that just change their logo and don't revitalize their brands don't boost business.
FedEx has worked hard to maintain their market leadership and capitalize on their OG shipping stature. (OG is original gangster, for those old enough to have used FedEx in their early years.)
These days Amazon is among their toughest competition. Once the new-niche honeymoon ends, it rarely comes back.
Happily, my honeymoon continues…going on 28 years this June!
***
Just for Fun
The wedding industry is booming now, as many who postponed their wedding early in the pandemic are getting married this year. Resources for the big day can be hard to find.
If you have a need to officiate a wedding for a friend or family member, Miller Lite and the Universal Life Church would like to help. See how to get ordained here.
Hat tip to Rohit Bhargava for noting this in his Non-Obvious Insights Newsletter.
Likewise, many people who postponed vacations have trips planned now.
Check out this SNL insightful commercial about what vacations can and cannot do for you.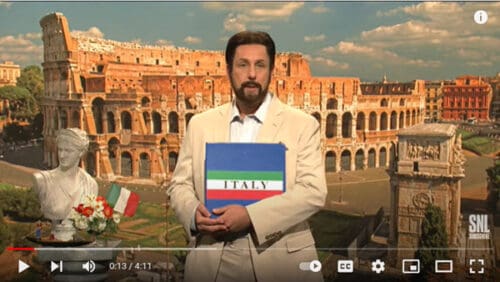 Thanks to Austin Kleon for tweeting about this.
If you liked this post, you'll love the next one.
To have future posts sent to your inbox...