In April, my husband and I drove to Asheville, North Carolina to spend a long weekend with friends.
That's 888 miles from our home in Natick, Massachusetts, 15 hours driving.
A daunting distance.
To lure myself into the car for that adventure, I needed to know it could make the trip.
My 2017 Subaru Forester had only 37,000 miles on it, so it made sense to me to take it to North Carolina.
However, my husband felt racking up major mileage would unnecessarily age the car. He told anyone who would listen that I didn't see the wisdom of renting a car.
To me, not taking your own car when you have a major trip is like covering your furniture in plastic and never sitting on it directly.
When are you going to enjoy it?
But before I'd put my car through that journey, I wanted Paul to bless it.
Paul is part owner of Center Automotive in Needham. My father-in-law recommended them as reliable mechanics 25 years ago. I've been taking my cars there ever since.
A week before the trip, I dropped my car off for an oil change and thorough review. I told Paul I wanted it to be North Carolina ready.
Then I walked to a yoga studio to take a class.
When class finished, I had a voice message from Paul. I called him.
Paul said, "Evelyn, you've got about 4,000 miles left on your rear brakes. For your trip you'll probably be driving mostly highway…"
"Paul, let's replace them now."
"That's what I thought you'd say, but I didn't want to do anything until I checked with you."
When I picked the car up an hour later, Paul said the car was good to go.
And then so was I.
The Trust Crisis
My trust in Paul is no common thing.
The world is in a trust crisis.
Edelman, a global communications firm, has been tracking the public's level of trust for 22 years. Their Edelman Trust Barometer 2022 study, fielded in November 2021, surveyed 36,000 people in 28 countries.
Fifty-nine (59) percent of the people surveyed agreed with the statement "My tendency is to distrust until I see evidence that something is trustworthy."
Distrust is the default.
Diminishing trust in government and media drives much of this sentiment, but business has a trust problem too.
While 61 percent of the respondents said they trust business, 63 percent said business leaders are purposely trying to mislead people by saying things they know are false or gross exaggerations, up 7 points from last year.
Only 49 percent said they trust CEOs.
Other research shows a more dire crisis.
Global market research firm IPSOS measures trust by profession in their Global Trustworthiness Index, a study conducted in 28 countries.
IPSOS's 2021 report showed only 23 percent of respondents trust business leaders, only 15 percent trust advertising executives. The only two categories listed below these were government ministers and politicians generally!
Thanks to my friend and Marketing Book Podcast host Douglas Burdett, I'm now aware of the worst news yet: a Hubspot study from 2016 showing only 3 percent of respondents trusted marketers or sales people.
And by the way, if you are selling something you are both a marketer and a sales person.
Successful Marketing Builds and Deepens Trust
An old marketing adage says "before people will buy from you, they need to know, like, and trust you."
This remains true and applies to all industries.
As Marcus Sheridan advises in his book They Ask, You Answer, "Trust is the business we're all in. That will never change."
Trust is still the aim of marketing, but earning it is harder than ever.
We have a marketing crisis on our hands!
If you feel like marketing has become more difficult recently, that's because it has.
But there is some good news.
The Edelman study also showed that 58 percent of respondents buy or advocate for brands based on beliefs and values.
If you can build trust with your audience, you have a poignant differentiator from your competitors and can become their go-to, like Paul is for me in all auto mechanic matters.
Marketing Has Gotten Stuck on Awareness
You may be thinking, "Well duh Evelyn, this is kind of basic. Why are your writing about this?"
Great question.
Three reasons.
First, I've seen a rise in awareness-seeking, untrustworthy behavior.
Commenters who attack people's posts on social media just to gain attention.
My client's new contact who began their meeting with scathing criticism of her business.
People who pitch you as soon as you connect with them on LinkedIn, Facebook or Twitter.
And this gem of a response from a prominent Ohio business woman to a recent grad looking to connect with her.
If one of your first interactions with someone is a cruel takedown or a pitch, would you trust them?
Me neither.
They've killed the relationship before it began.
Notoriety does not lead to trust. It tarnishes personal brands.
Second, I see tons of marketing advice on generating awareness: how to "get known," to use influencer marketing, to jump on the cryptocurrency bandwagon, to optimize your search results, and to get attention with paid social advertising.
The emphasis seems to be on getting attention from the masses, with the expectation that will stoke sales.
But attention is just the 'know,' in "know, like, and trust."
Stopping there is likely to disappoint revenue expectations and stunt brand growth.
Third, the goodwill you accumulate with trust can save your brand in moments of failure. With staffing shortages and supply chain issues, brands need to draw on their goodwill to retain customers.
6 Ways Your Brand Can Establish and Deepen Trust
The trust crisis predates the pandemic and has been brewing for years.
As brand leaders we seek to have our audience trust us, while as consumers we may be in the majority mistrusting other brands and leaders ourselves.
How can we refocus on trust in this contentious environment?
1. Begin with patience.
As technology has sped our world and smartphones have given us constant access, our patience has shortened. But trust building – which is really relationship building – takes time.
Retrain your customer-acquisition patience muscles by reframing the process. Think of gaining customers less like fishing and more like cultivating treasured friendships.
Build more customer courtship time into your marketing plans. Expect a prospect to need more interactions before becoming a customer.
My typical new client has known me for 18-36 months, has met me in person or has had multiple one-on-one conversations with me, and has read my articles via newsletter subscription or my blog.
2. Help first, sell later.
When Paul called me, he didn't try to sell me on a new brake job. He gave me his team's expert opinion that I had 4,000 miles left on my rear brakes.
I asked for the new brakes before he had the chance to sell.
Prospects and customers want information to help them make decisions. They may have questions related to your brand's expertise, your products, your services.
Make those answers easy to find. Answer them in person if you have the opportunity, like Paul did.
Marketing communications – website content, how-to videos, blog posts, newsletters, chat bots, white papers, downloadable articles and infographics – are great tools to help your prospect get help and demonstrate your brand's expertise.
Once your prospect feels confident your brand understands their challenges and has the answers, they may become a customer before you ask. If not, once you know they trust your brand, then you can make them an offer.
3. Get to know customers beyond personas.
Customer personas inform marketing content and approaches in broad strokes.
Once a prospect initiates a relationship though, your brand team should be empowered to get to know them individually.
Spend time talking to them. Paul remembers my father-in-law and asks about my family. His genuine interest makes me feel like I am taking my car to a trusted friend.
Invest in systems that allow your team to capture customer information in a central location for easy reference and tailoring offers. The most effective marketing is personal.
4. Take royal care of customers.
Treat them as you would good friends.
Great customer experiences turn new customers into repeat buyers.
It inspires them to recommend your business the way my father-in-law recommended Center Automotive to me. I've recommended them to my kids, my sister and brother-in-law, and several friends.
Outstanding experiences also motivate customers to write glowing reviews.
5. Ask for meaningful feedback and act on it.
No brand is perfect. Some customers will complain about problems, but many won't. They'll just walk away.
To deepen their trust, your brand needs to know about problems and have an opportunity to fix them.
Don't send a 20-question customer satisfaction survey. Instead, ask them verbally if you have the chance.
Or send a two-question survey like Zappos used to do.
Their first question was a 10-point rating scale asking how likely the customer would be to recommend them?
If your customers are willing to put their personal brand on the line for you, you're doing well.
The second question was open-ended: How could we have made this experience better?
If they take the time to respond, make sure your brand does too.
6. Play the long game.
Patience + helpfulness + empathy + responsiveness lead to trust.
Long-term commitment to the steps above will yield the most coveted asset: loyal, repeat customers.
Keeping your eye on trust as your marketing goal, your brand will gain stability and grow. And you'll find doing business more pleasurable, like interacting with friends rather than chasing sales.
Going the Distance
Center Automotive is a 20-minute drive from my house. There are plenty of closer mechanics. But I gladly make the drive for the reliability of excellent service at a fair price and the ease of talking to Paul.
My Subaru handled the 30-hour round trip well, as I knew it would with Paul's blessing.
And I saved the $800+ I would have spent to rent a car.
Have you seen how expensive rental cars are these days?
No? Neither had my husband Dan.
When he found out they cost between $99-$150 per day, he said the economies of car rental have changed and he was glad we took my Subaru.
But instead of telling everyone like he did when I didn't see the wisdom of renting, he told only me.
Oh well.
Would you rent a car for an 1800-mile trip or take your own?
And how does your brand build trust?
***
Just for Fun
Billy Joel songs provided the soundtrack to my childhood.
Before we knew about The Beatles performing "Get Back" on a London rooftop, he recorded this supposedly impromptu video of "It's a Matter of Trust" in a New York City apartment building basement.
Notably, the Piano Man plays electric guitar here. Check it out. (4 minutes, 53 seconds)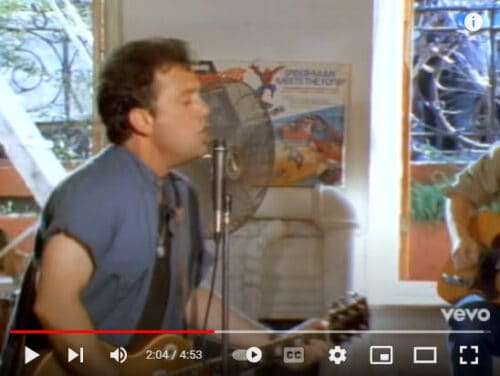 And if you have more time, check out Kevin Kelly's "103 bits of advice I wish I had known," which he published on his 70th birthday, April 28, 2022.
Among my favorites are:
"Anything you say before the word 'but' does not count."
"What you do on your bad days matters more than what you do on your good days."
I wouldn't follow his advice about getting kids to behave in the car, though.
The Senior Maverick and co-founder of Wired Magazine's post popularity crashed his website. See if it was worth it. (more than 4 minutes, 53 seconds)
Top photo by Joshua Hoehne on Unsplash
If you liked this post, you'll love the next one. To have future posts sent to your inbox, click here to subscribe.