Early in my career I found myself in the unusual position of giving advice to a lawyer.
The lawyer was my college friend David who was working as a second-year associate at a firm in Morristown, New Jersey.
This was in the late 1980s, when the popular TV show LA Law was revealing to the rest of us commoners the glamourous life of US lawyers.
Dedicated servants to justice.
Personal sacrifices left and right to file urgent paperwork and rescue clients.
Hundred-hour work weeks to the serve the billable-hour gods, aka the partners, in hopes of joining their ranks.
More than a year into his job, our phone conversation revealed David had yet to take a vacation.
I asked why.
David said, "There hasn't been a good time."
Me: "David, this is a law firm. There is never going to be a good time. You need to carve one out."
David: "I'm not sure how to do that."
Me: "I am. You choose a time well in advance. A month before your vacation, you write a memo to anyone who relies on you for work, informing them of your vacation.
A week before, you write another memo reminding them of your vacation, asking them to give you anything they need done before your departure as soon as possible.
And when your vacation start date comes, you go."
Many of Us Are Bad at Taking Vacation
I dispensed my advice to David before I took my first work vacation. I knew even before I saw the data I am going to share with you how important vacations are.
Once in the work world, the widespread aversion to taking time off bewildered me.
In the US, we are especially guilty of this.
In 2018, Americans took the fewest number of vacations days compared with the rest of the world – 10. We tied with Japan and Thailand.
Worse, we left four earned vacation days unused.
This stands in great contrast to my friends in the UK who received 26 vacation days and used all but one.
No wonder we are stressed out.
Why We Don't Go
David was not alone in his fear of taking time off.
Yes, fear.
That's what aversion to vacation is. Fear of losing your job, of not being there when the company needs you, of missing something important.
As a business owner, it is easy to think "They can't run the place without me!" or "Clients will bail if I am not here."
This aversion runs rampant in the US. There is a false bravado associated with working long hours that breeds insecurity about not being on the job.
But there is a point when working more is counterproductive.
Why Vacation is Crucial
More work time becomes less helpful when it affects your health.
A 2013 study by the Center for Creative Leadership found that 60 percent of those who carry smartphones connected to their jobs work 72 hours per week.
Do you know any business owner who doesn't have a smart phone connected to work these days?
Me neither.
Our 24/7 connectedness can harm our health.
A study at the University College London which looked at 500,000 workers showed a 33 percent greater risk for stroke in those who worked more than 55 hours per week, compared to those who put in 35-40 hours per week.
The greater risk applied at all socioeconomic levels.
Taking time off to decompress can help counter that risk as well as enable you to get a fresh perspective on your brand and generate new ideas.
And vacation is important for your employees' well-being and productivity too.
A Project: Time Off study found people who took fewer than 10 vacation days per year had a 34.6% likelihood of receiving a raise or bonus in a three-year period of time. For those who took more than 10 vacation days, the chance of receiving a raise or bonus jumped to 65.4%.
Think about that for a moment.
People who take more than 10 days of vacation per year perform their job more effectively – and that includes you!
Time to recover and recharge benefits everyone on your team.
My friend Anne Janzer, owner of Cuesta Park Consulting, took a break recently and told me: "Vacation was wonderful—I didn't even realize how much I needed it until I was in it."
Not Every Vacation is Good
Have you ever returned from vacation feeling as stressed as you were before? Or feeling like you needed a vacation after your vacation?
You have company.
The journal Applied Research in Quality of Life published a study in 2010 where researchers in The Netherlands interviewed 1500 people and found most were not happier after vacation.
The study data revealed moderate to high travel-related stress precluded any happiness gain from vacation.
Stressors in the moderate-to-high range included managing transportation, trying to deal with details while on the trip, unfamiliarity with the location, and not feeling safe.
Vacationers experiencing those stressors returned less happy, more stressed, and less energetic than before they went.
Avoiding stressors on vacation seems harder than ever.
We are game to travel and booking vacations with a vengeance to make up for trips lost to the pandemic. But travel issues such as lost luggage, missed connections, and cancelled flights are rendering those vacations less relaxing than we had hoped, and in some cases, making us worse off.
How to Take a Good Vacation
Good vacations reduce or eliminate the stressors mentioned above.
According to happiness researchers Shawn Achor and Michelle Gielan, if you plan a low-stress vacation, 94% of vacations return a good ROI of renewed energy and positive outlook.
Here's how you can set yourself up for a positive vacation:
1. Plan more than a month in advance.
Like my advice to David. People who plan more than a month in advance tend to enjoy their vacations more. Alert your team, your customers, and anyone who depends on you workwise to your planned time away.
2. Go away.
Staycations are overrated. Putting some distance between you and your regular life increases the happiness you gain from vacation. Opt for a change of locale, and consider going far away.
3. Focus on the details.
Trip details caused the most stress for 74% of travelers in Achor and Gielan's study, especially transportation, travel uncertainty, unfamiliarity with the location, and wasting time figuring things out on the trip.
Do your research in advance or get help from a travel agent. It will be worth it.
Incorporate direct flights, carry-on luggage, and pre-booked transportation in your plans to minimize the disruption of connecting flights, lost luggage, and relying on Uber or figuring out public transport in an unfamiliar place.
4. Make social connections while away.
Find a local host or tap a knowledgeable friend to help with the details while you are there.
Talking with the locals or others traveling to the same place has yielded many tips and answers for me. The social interaction also feels good and has provided some of my favorite memories.
My daughter Fiona experienced this recently on a trip to Italy.
Upon arrival at the airport, she was compelled to check a bag she thought she could carry on, and became stressed about the luggage actually making its way to Rome.
Fiona approached a couple she overheard talking about checking their baggage to Rome. She had a drink at the bar with them and later they navigated their connecting flights together.
Yes, I believe it was the companionship that reduced Fiona's stress. The drink may have played a supporting role. (Her bag did get to Rome.)
Days later they crossed paths at the Vatican and had lunch together.
5. Disconnect from work.
It's hard, but truly disconnecting from email, social media, and other work-related stuff allows you to be present in your vacation and gives you a real break. If you want a fresh perspective, the break is crucial.
Of course, your ability to relax will also depend on the team you have in place while you are away if the company is more than just you.
Savvy business owners build a senior leadership team that can run their brand well in their absence.
The team can even be a single deputy.
Before he had his own company, my husband used to run the operation of his employers' financial services firm while the two owners went to Florida for three months each winter.
What Are You Waiting For?
Here's the bottom line: research shows a happy, healthy, well-rested you working 47 or 48 weeks a year will achieve better results than a drained you grinding away 51 weeks a year.
Your brand needs you to take vacation so you can return to the helm with renewed energy and new ideas.
Give yourself permission to take it.
David didn't need to hear my advice twice. He went on vacation then and has been good about taking time off ever since.
If you don't have any vacation planned, stake out the time now – even six months in advance.
When the time comes, set your out-of-office message and go. You can find some inspiration for good and humorous messages here. (Scroll all the way down for the full-fledge messages.)
I'm taking two weeks in the Berkshires this August.
What are your vacation plans?
***
Just for Fun
When you go away, don't stay at the Business Garden Inn. Billie Eilish and Finneas O'Connell hold their own in this SNL skit. (4 minutes, 25 seconds)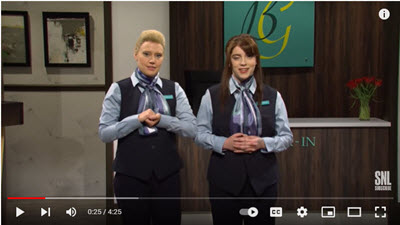 And if you like Scottish accents, you may enjoy this SNL skit with James McAvoy. (4 minutes, 26 seconds) Kate McKinnon won praise for her accent. I miss her already.
Top photo by Sai Kiran Anagani on Unsplash
If you liked this post, you'll love the next one. To have future posts sent to your inbox, click here to subscribe.