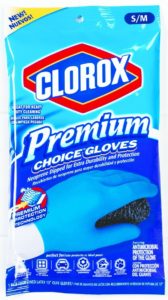 Dear Clorox:
I am an avid user of your Premium Choice Gloves which are "Neoprene Dipped for Extra Durability and Protection."  Though I was not searching for neoprene-dipped gloves, I have become a loyal user of them as they are the most durable rubber gloves that Target sells to protect my hands as I scrub pots and pans.
Otherwise my hands would resemble those of the Wicked Witch of the West.
Usually I buy two pairs at a time, so when the first pair fails – via a tear in one of the gloves – I have a back-up pair ready.
Here's the thing though.  It's always the right glove that goes first.