What would you do if someone wrote an unflattering tell-all book about your work place?
This happened to HubSpot in 2016.
HubSpot is a software company in Cambridge, Massachusetts. They develop software to help their customers use inbound marketing to build their businesses. HubSpot sells their software as a service, meaning customers pay a monthly fee to use it.
Seasoned tech journalist Dan Lyons worked there from April 2013 to December 2014. It was not a good experience for him so he did what journalists do. He wrote about it.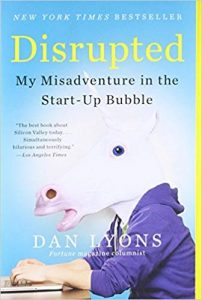 I recently finished Lyons' book Disrupted: My Misadventure in the Start-Up Bubble.
It was an entertaining read. Lyons highlighted the ageism in the tech start-up world and shared his insider's view of the pressure at HubSpot to grow the business.
His insights dovetailed with my less-than-optimal experience with HubSpot.
In the summer of 2013 I downloaded a free HubSpot e-book. The amount of information requested for the download gave me pause – not just name and email address, but also company name, size, type of business, and phone number. I proceeded anyway.
Within an hour of requesting the download, I began to receive sales calls from HubSpot. One salesperson called several times over a two-week period. Other salespeople called occasionally, all with the same script. I also received sales emails.
The barrage bordered on harassment. I unsubscribed from their emails, ignored their calls and wrote a post about it in October 2013.
To my surprise, HubSpot's CMO, a guy Lyons dubs "Cranium" in his book, responded to my post.
Cranium's response defended HubSpot and denied that HubSpot was a brand in adolescence since they had not stopped growing. Revenue had grown 82% the prior year.
But revenue growth was not the whole story. Costs were skyrocketing and HubSpot had yet to show a profit. Brands that have yet to operate profitably are certainly adolescent.
Reading the book made me curious. Had HubSpot proven inbound marketing to be profitable? Was it still a brand in adolescence?
Inbound Inspiration
HubSpot's entire reason for being centers on inbound marketing.
Inbound marketing is a concept that marketing guru Seth Godin originated in his book Permission Marketing in 1999. Godin's premise was twofold:
Getting a prospect to give you permission to market to them would be more effective than interrupting them with annoying advertising and sales calls.
The advent of the internet (this was 1999) would mean that the cost of incremental marketing touches like emails and webpages would be zero which would drive the overall customer acquisition cost down.
Godin advocated creating communication suites -things like a series of emails, letters, webpages, or even phone conversation scripts – that would deliver something of value to the prospect for free and allow the seller to learn more about them and tailor future communication based on that learning.
Godin predicted that this slow drip approach would turn prospects into friends and friends into customers. The relationships built would provide the foundation for a healthy business and reduce customer acquisition cost.
HubSpot's co-founders Brian Halligan and Dharmesh Shah seized on this idea after Shah started a blog in 2005 that attracted traffic quickly. The two noted that people flocked to information they found helpful.
In 2006 Halligan and Shah launched HubSpot, offering software to help businesses attract customers by "inbound marketing," marketing that offered helpful content to prospects to get their attention.
HubSpot led by example, publishing free e-books and other resources on the topic of inbound marketing to teach people what it was and how to use it. Requestors had to provide their contact information and other company details to receive the free resources.
The Inherent Flaw in the Plan
The inbound marketing approach requires time and patience to build business.
For HubSpot this would have meant letting their prospects digest the first free content it sent, offering them another resource or series of resources informed by their first choice and answering questions. Prospects would become familiar with inbound marketing and HubSpot's offerings and ultimately many of them would become customers.
But Halligan and Shah were tech industry guys who set their sights on building a tech company to take public.
Their aspirations for the company were at odds with the time and patience inbound marketing requires. Instead they gave their salespeople high quotas to meet which resulted in aggressive sales tactics like the calls and emails I received.
Show Them the Money
Fast growth requires capital. Shah put up $500,000 as HubSpot's sole seed investor. By 2013, they had raised over $100.5 million in six rounds of funding. They had spent most of it.
Then HubSpot had a successful IPO on October 10, 2014, selling 5 million shares, raising another $125 million in funding, valuing the company at $759 million and enriching Halligan, Shah and their investors.
Since then HubSpot has broadened its product offerings from a single app to a software platform with multiple components. It has grown exponentially, expanding its customer base from 13,607 to 60,814, its work force from 785 to over 2,600 and its annual revenues from $115.9 million to $513 million.
But it's still not profitable.
HubSpot spent hundreds of millions of dollars to continue fueling growth and sought more funding through another public offering of 1.7 million shares of common stock in February 2019. The offering raised $355 million.
HubSpot's Identity Crisis
The ability to bring down sales and marketing costs drives the business case for inbound marketing, and it is precisely this struggle that seems to be preventing HubSpot from being profitable.
HubSpot's first quarter 2019 investor presentation shows that HubSpot has made progress in that struggle, bringing sales and marketing costs down from 55 percent of revenue in 2016 to 44 percent in first quarter 2019.
HubSpot Q1 2019 Investor Presentation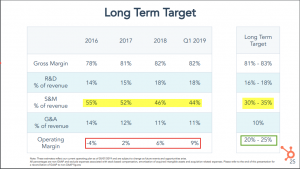 Given that their gross margin, R&D and G&A expenses are already in line with their targets, HubSpot's ability to be profitable – to get their operating margin to the 20 to 25 percent target – hinges on their ability to reduce sales and marketing costs to 30 to 35 percent of revenues.
As HubSpot's brand identity is inextricably linked with inbound marketing, proving it works by becoming profitable is crucial.
A key indicator of successful inbound marketing is a reduction in customer acquisition cost (CAC). HubSpot harps on this point.
Yet HubSpot's success there remains murky. HubSpot's CAC rose from $6,671 in 2011 to $11,997 in 2014. Then they stopped reporting it. The lack of reporting has raised suspicions and conjectures that their CAC continued to rise despite company statements that it had gone down.
HubSpot remains a brand in adolescence with an identity crisis as it has yet to demonstrate that inbound marketing is profitable and reduces CAC.
HubSpot Needs to Slow Down to Succeed
To address their identity crisis, HubSpot needs to:
Become profitable. Focusing on this goal will mean slowing things down to allow customer support and other infrastructure functions to scale to the company's current size.
Show customer acquisition costs. With HubSpot's focus on this key metric, the lack of transparency on CAC is glaring.
Dial down aggressive sales tactics. For research purposes, I signed up for another free download on June 18, 2019. By July 3rd I had received 15 emails from two sales people and "The HubSpot Team." The daily barrage encourages people to tune out and is contrary to the spirit of inbound marketing.
Slow customer acquisition. Improving the experience for the customers HubSpot has would turn more of them into advocates which would also help lower sales and marketing expenses via positive word-of-mouth.
Staff and train customer support better. Several 2019 HubSpot entries on employer review website Glassdoor.com indicate customer support workers feel overwhelmed and overworked. Getting customer support caseloads down to a manageable size is key to delivering the great customer experience HubSpot advocates.
The fresh infusion of capital from the latest public offering provides the perfect opening for HubSpot to focus for the long term. If they do, they have a shot at continuing to dominate the inbound marketing space for years to come.
If they don't, who knows how much more capital the public will lend them before they bail?
Should Your Brand Use Inbound Marketing?
If you have the resources to create helpful content for your prospects and to deliver it via email and social media marketing, I recommend that you use inbound marketing as one of your marketing strategies.
Helpful content can take many forms including videos, infographics, articles, podcasts and e-books. It should inform the prospect on a topic of their interest while demonstrating your brand's understanding of their problems and expertise in solving them.
Inbound marketing can attract prospects your brand might not otherwise reach.
But the approach takes time to work as it is like building friendships. Few acquaintances become immediate best friends. Relationships take time and multiple interactions to build.
Inbound marketing has worked well for me. My email newsletter is my primary marketing vehicle. It has produced prospects and prompted referrals. In 20 years in business I have never run an ad or made a cold call.
One thing you should not do is react the way HubSpot did when word of Lyons' book got out.
Months before the book was published, Cranium tried to use extortion to get an early manuscript and stop the publication. His actions triggered an FBI investigation and resulted in his abrupt dismissal.
HubSpot's board sanctioned CEO Halligan for not reporting knowledge of Cranium's actions earlier. Cranium's right-hand person, "Wingman" in the book, resigned before he could be fired.
Cranium's actions ultimately boosted interest in the book when HubSpot issued a press release to explain his dismissal.
About a week after the book was published in April 2016, Shah responded on LinkedIn, copping to some accusations but leaving many questions unanswered. He indicated that HubSpot is on a "path to profitability," but over three years later they still haven't gotten there.
If you liked this post, you'll love the next one.
To have future posts sent to your inbox...