In April 2002, my husband Dan and I took a vacation to France. We flew to Paris to spend three nights there before going south to Avignon and Aix-en-Provence.
Upon arrival we took a long walk and had lunch at a café. After a nap, we headed out for a Saturday night on the town based on recommendations from our Fodor's Paris guide.
To start, Dan chose a bar called Wax which had pink and orange décor. I sipped a kir. Dan had a Bloody Mary and concluded you should not order an American drink in Paris unless an American is going to make it.
We had a 10:30 p.m. reservation at an Alsatian restaurant called Brasserie Bofinger (pronounced Bo-fan-zhay) in the fourth arrondissement. After finishing a delicious three-course dinner, we decided to walk to Café Trésor, a night spot Fodor's noted for live music.
But Café Trésor had gone out of business.
Tired from our day, we looked for a cab. My high heels echoed on the dark and empty cobblestoned street. Few cars traveled the roads near us, none of them a cab.
We started walking toward our hotel, which was on the other side of the Seine in the sixth arrondissement, rationalizing that we would find a taxi on a busier street.
That never happened.
We arrived at the hotel at 2 a.m., exhausted and me with sore feet.
Lack of Cabs in Paris Spawns an Idea
In 2008 Travis Kalanick and Garrett Camp also failed to get a taxi in Paris. That experience inspired them to create UberCab, a smart phone app that allowed people to tap a button to hail a ride.
Launched in March 2009 in San Francisco as a black-car service, UberCab connected its first rider with a black town car on July 5th, 2010. In October 2010 Uber dropped the "Cab" part of its name and in December 2011 it launched its first international service in Paris where the idea was born three years prior.
Uber's founders have always thought of it as a technology brand and expanded its rideshare services to Uber X for lower costs rides, Uber XL for large parties, and UberPool for carpooling. Uber's black-car service became Uber Black.
Uber also launched a flurry of other services including:
on-demand ice cream delivery (2012);
UberKittens which provides 15-minute rides where patrons snuggle kittens and munch on cupcakes to benefit local animal shelters (October 2013);
UberFresh that delivers food on-demand in LA, Chicago and New York and later became UberEats (April 2015);
a self-driving vehicle pilot test in Pittsburgh (September 2016); and
Uber Freight (May 2017) which connects trucking companies and their drivers directly with shippers.
Uber's main transportation service now operates in 63 countries and more than 700 cities around the world.
Uber Trouble
Uber's fast and furious expansion came despite much controversy.
The brand gained a reputation for a misogynistic culture, beginning in February 2014 with CEO Kalanick's description of his increased ease with women due to his success as "Boob-er." Former Uber engineer Susan Fowler's February 19, 2017 blog post detailed how sexism and sexual harassment went unchecked and how Human Resources had lied and protected a repeat offender.
Uber's cutthroat tactics have raised ethical questions. These include ordering thousands of rides from competitors Gett and Lyft in New York City and then canceling to disrupt their operations, surge pricing during emergencies like Hurricane Sandy and hiring dozens of Carnegie Mellon University scientists for its self-driving car development, devastating a premier robotics institution.
More ethical questions arose when Buzzfeed reported that Senior Vice President Emil Michael suggested at a private dinner that Uber create a team of opposition researchers and journalists and allocate them a $1 million budget to dig up dirt on their critics. Michael apologized and left the company two and a half years later.
Perhaps Uber's most damaging act was on January 29, 2017 when New York area taxis went on strike at JFK airport to protest Donald Trump's immigration ban. Uber continued service there and even removed surge pricing. Outrage prompted a #DeleteUber campaign and led 200,000 users to delete the app.
Ultimately revelations about Uber's toxic work culture and nasty tactics forced CEO Kalanick to resign on June 21, 2017. At the same time Uber initiated their "180 Days of Change" PR campaign during which the company announced a new set of values and promised to allow riders to tip drivers, among other changes.
In 2018 Uber spent $500 million to air an ad campaign to show that they are improving and "moving forward." When not focused on making amends, Uber's advertising has tried to tap riders' emotions around life events and opportunities.
Another Rideshare Service Lyfts Off
In 2007, a year before Paris' taxi drought inspired the idea for Uber, John Zimmer met Logan Green through a mutual friend on Facebook after Green posted that he was starting a ridesharing service called Zimride.
Zimmer had been contemplating a similar idea, and the name coincidence intrigued him. Green named the service Zimride after visiting Zimbabwe where many people needed to share rides.
Green and Zimmer sought to provide an alternative to car ownership to improve people's lives and to prompt city designs to become people-centric instead of car-centric. Zimride's business focused on ridesharing for long-distance trips and on providing car-sharing services to college campuses.
In 2012 Green and Zimmer sponsored a hackathon project to figure out what Zimride would look like as a mobile app. Engineers built the app in three weeks. The company called the app Lyft. Lyft launched on May 22, 2012.
A year later Lyft was giving 30,000 rides per week and had raised $60 million in a funding round led by Andreessen Horowitz. Realizing Lyft offered greater potential to achieve their alternative-to-car-ownership goal, Green and Zimmer sold off Zimride's assets and focused on Lyft.
Unlike Uber, Lyft has remained focused on "Transportation-as-a-Service." Lyft operates in Toronto and Ottawa in Canada and in 350 U.S. cities.
A More UpLyfting Image
Lyft has made driver relations a priority, establishing Driver Advisory Councils, creating driver centers for quick and easy car maintenance and offering educational perks like access to tuition discounts, online learning and college coaching.
Lyft also appeals to the environmentally and socially conscious consumer. In April 2018 the company announced it would buy carbon offsets to bring its environmental impact to zero.
Where Uber went for the sleek, cool, black-car image, Lyft was fun and warm. A friend of the founders ran a company that sold large, fuzzy pink mustaches made to adorn the front of a vehicle. Green and Zimmer began handing out these car ornaments at Lyft events.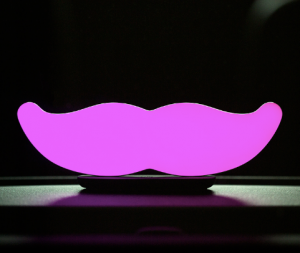 Soon people began associating the pink mustaches with the Lyft brand. For a while the company incorporated it into their logo. They shifted from the car-front ornament to a "glowstache" which lit up inside the car to identify it as a Lyft ride. Ultimately the light stayed but the mustache went.
Lyft has engaged in funky, light-hearted and non-traditional marketing. Lyft's first ad was animated.  More recently Lyft has sponsored branded entertainment like Kevin Hart: Lyft Legend and Undercover Lyft where celebrities like Demi Lovato and David Ortiz drive unsuspecting Lyft riders incognito.
Lyft v. Uber: Does it Matter?
As one of the few people left in the U.S. with neither app on my phone, I sought insight as to whether the brand of rideshare matters to patrons.
I polled friends and connections on Facebook and Twitter and via email about their preference between Uber and Lyft. My highly unscientific study garnered a sum of 14 votes – 11 for Lyft, two for Uber and one who said "same to me."
Three people preferred Lyft because it was cheaper. One said the brand was more socially and environmentally conscious, and another heard it treated drivers better. Two people cited Uber's bad management as a reason for their vote for Lyft and another shared an awful experience with Uber.
Yet one who preferred Lyft added a caveat saying that when Lyft isn't available, she uses Uber as it is more widespread.
These responses got me thinking about what is really driving the ridesharing industry: availability and price.
I'm not saying that people don't factor their brand impressions into their decisions. But in the effort to get from one place to another, availability and price seem to reign in the moment for many people as they have both apps and can tell you the price differential between the two services.
When both are available and price becomes the determining factor, brand doesn't matter. These riders are treating on-demand transportation as a commodity.
Ridesharing's Rough Road to Profit
Brands involved in commodity price wars have a tough time making a profit.
Neither Uber nor Lyft has ever made a profit and it is unclear if they ever will. Lyft reported a loss of $911 million in 2018. Uber posted $997 million in profit, but that included the sale of some assets. Subtract the sales and Uber lost $1.8 billion.
Moreover, the ridesharing industry is young and has low barriers to entry.
On-demand transportation requires little more than the creation of an app and the building of driver and rider communities. Lyft and Uber are spending lavishly to be at the top of the markets they compete in, but new entrants keep coming.
New York City has Via and Juno. Boston has Safr. Upstart Bolt is now besting Uber in Kenya and Poland, and is about to enter London.
And then there is Waze, the Google-owned app that has launched a carpooling service aimed at helping people get to and from work. Riders in the U.S. are charged 58 cents per mile, the IRS reimbursement rate.
The price competition will likely get worse before it abates.
The Economics major in me expects that time and investor impatience will force some of the weaker players to sell to bigger ones or to die off and the industry will consolidate. As the two largest players in the U.S. market, I expect both Uber and Lyft will be consolidators.
Who will win?
Lyft has better defined its brand, is working harder to build community than Uber and is focused on growing their presence in North America. Uber is a brand in adolescence with an identity crisis as it is spread across too many endeavors and geographies.
My money would be on Lyft as the top player in the U.S. if I was in the habit in placing money on brands that have no idea if they will ever be profitable.
Don't Compete on Price
What does Uber and Lyft's fierce competition have to do with your brand? It offers an object lesson on the dangers of competing on price.
There is a difference between being competitive – having a price in the ballpark – and competing on price which means using it as your main competitive lever.
When you compete on price, the only place to go is down. Instead of working your price down, build your brand value up.
Learn what is most important to your constituents and deliver it better than anyone else. Drivers are a key constituency for Uber and Lyft and have gone on strike for both brands recently over claims of insufficient compensation. Imagine if Uber or Lyft began compensating drivers better? Or created a new model that set drivers up as entrepreneurs like Zumba did for fitness instructors?
Establish and maintain meaningful brand differentiation. Lyft is trying with their social and environmental consciousness, but this isn't a strong differentiator when riders use price to override it and drivers continue to serve both brands. Conscientious objectors to Uber's past may choose Lyft for that reason, but being Not Uber isn't strong brand differentiation either. Strong differentiators motivate your constituents to opt for your brand, not just against the competitors. Again I think the opportunity here for Uber and Lyft lies with appealing to drivers.
Focus your brand on owning a niche. For ridesharing brands at this stage of the industry, the best niche is geographic. Rideshare service Bolt began in Estonia and expanded to markets in Eastern Europe, the Baltics and Africa where Uber was not making a big effort. Bolt is now Uber's biggest challenger in Europe and Africa. Uber has already retreated from highly competitive markets in China, Southeast Asia and Russia. Lyft's continued focus on North America is its best chance for long-term success.
The moral of the story is avoid centering your business on a commodity.
It is possible that Dan may think the moral of the story is that we should have thought to create a ride-hailing app after our experience in Paris!
Which ridesharing app do you use? And how do you choose?
If you liked this post, you'll love the next one.
To have future posts sent to your inbox...