A new client requested a Skype call recently.
I installed Skype on my new laptop and wanted to test drive a call with my son AJ.
When I asked him, AJ said he did not think he had it installed on his four-year-old laptop.
Then he asked if my new client was 80 years old.
The implication was clear: Skype was out. No one was really using it anymore.
With a gleam in his eye, AJ then said: "Hey, you should write about Skype."
This is what happens when your children grow up watching you write a monthly marketing newsletter.
And so here we are.
AJ had a point.
Skype use for internet phone and video calls was so prevalent in June 2014, the Oxford English Dictionary added the verb to Skype, acknowledging its standard-bearer status akin to brands like Google, Band Aid, and Xerox.
How did they fall so far so fast?
Skype Soared Early
In August 2003, Niklas Zennström and Janus Friis launched Skype along with a team of Estonian engineers. The team designed Skype as a peer-to-peer calling system, which translated voice to data and transmitted it over the internet. This same team had used similar code to launch Kazaa, a music file sharing system, a few years earlier.
Their idea was to "democratize global communication" by making voice calls cheap.
Two Skype users could converse for free via their computers. For a low cost, Skype users could call a mobile or landline phone anywhere in the world.
Skype use soared. In February 2004 the company added audio conference calling. By October 2004 Skype managed 100,000 concurrent users. One year later, the concurrent user count had jumped to one million.
Skype's utility attracted a suitor. eBay bought the company in September 2005 for $2.6 billion. eBay's vision was that Skype technology would facilitate communication between its buyers and sellers.
But eBay buyers and sellers preferred to communicate via email due to its anonymity.
eBay's conservative bank-like culture also proved a bad fit for Skype's youthful startup culture. Skype went through several management teams in four years.
Yet Skype kept growing. In January 2006 the brand added video conferencing. In April 2006 the number of registered users reached 100 million. The number jumped to 530 million by 2009 and to 663 million in September 2011.
I was one of those millions in 2007.
I had a tea and herbal supplement client based in Switzerland with a U.S. management team in Eastern Massachusetts. The client team members, their PR agency and I tried to video conference via Skype several times during my six-month engagement.
Sometimes it worked. Often it didn't.
Due to the culture clash and the community preference for email, eBay sold a 65 percent stake in Skype to an investor group in September 2009 for $1.9 billion.
Microsoft paid $8.5 billion for Skype in May 2011, giving the investors a hefty return.
Zoom Soared Early Too
While Microsoft was purchasing Skype, Eric Yuan was founding Zoom.
Yuan had spent 13 years in Cisco-Webex's engineering group. His last year he lobbied Cisco management to let him rebuild the Webex video conference offering to improve it. Cisco declined.
Yuan left and mobilized 40 engineers to realize his own cloud-based video conference service. Yuan's vision for Zoom was to build a robust technological foundation so the service could "make communications frictionless."
Zoom launched in January 2013 with an initial conference maximum of 25 participants.
Within a month, Zoom had 400,000 users. By the end of May 2013, that number had grown to one million. Strong growth, but still .17 percent of the 600-plus million that Skype had.
Brand Identity Anchors Your Business
Like humans, brands succeed when they know who they are and how they want to be perceived.
The "who they are" is the brand's purpose. The brand's attributes define "how they want to be perceived," a.k.a. the brand's personality.
Together they constitute your brand's identity.
Brand purpose + defining attributes = brand identity
Brands in adolescence often flounder because they have not taken the time to establish their identity, and thus have no guidelines for growth or design.
Skype's Identity Crisis Lurks While Owners Milk the Brand
By 2011, the peer-to-peer technology Skype was built on was showing its limits.
Users experienced long load times, browser windows filled with ads, browser and app crashes, and unpredictable updates that derailed users' meetings.
Peer-to-peer technology also did not play well on mobile phones.
Skype was a brand in adolescence with an identity crisis.
While Skype's initial purpose was to "democratize global communication" by making calls cheap, it was far from the only company doing that now. In addition to Cisco-Webex and Zoom, Apple Facetime, BlueJeans Network and the newly launched Google Hangouts were among users' choices.
Skype's purpose had ceased to differentiate it from competitors.
The brand needed to craft a new purpose like Spotify did when their original one no longer differentiated them. But that did not happen.
Instead management focused on a core strategy of making its services as broadly available as possible.
Nor did Skype put forth a deliberate brand personality.
In the void, users associated it with adjectives describing their experience: wonky, unreliable, slow, buggy, infuriating.
Having three owners in six years did not help. Each owner looked to profit from Skype but not to invest in the brand's future.
eBay wanted it for buyer-seller communication. The investor group wanted to turn a quick profit. Microsoft wanted Skype's cool factor.
Microsoft began transferring Skype from its peer-to-peer technology to a cloud-based application in 2013, but took years to complete the process, frustrating and alienating users.
Skype's domination in the international call market – which had grown to 40% in 2014 – masked the urgency of strategically addressing the brand.
In addition to its identity crisis, Skype was oversleeping as well, ceding ground to competitors.
Zoom's Identity Positions the Brand for Growth
Yuan's "make communications frictionless" purpose for Zoom had led the brand team to invest two years in developing the technological foundation before the service launched and kept them focused as it grew.
Zoom gained a reputation for being easy to use, easy to access and reliable. You did not need an account to use it. You could do a 40-minute call for free. Non-tech users appreciated the single-click access.
Zoom had unique features that further endeared users to the brand:
a beautification feature that evened users' skin tones;
a custom background feature that could mask where you were;
and an ability to split call attendees into smaller discussion groups.
While Skype's management was focused on growth, Yuan led the Zoom team to focus on user experience.
Yuan's focus on making current users happy was also part of his philosophy of not growing too fast.
But Zoom's appeal prompted fast growth anyway. By June 2014, Zoom had 10 million users. Eight months later that number had quadrupled to 40 million.
Skype's Identity Crisis Crippled It
As competitors continued to flood the market and improve offerings, Skype's unreliable performance and protracted technological upgrade caused users to abandon it.
Microsoft did not know what to do for Skype.
In the absence of a strategic brand identity – a purpose and defined attributes – they still sought to be the cool kid in the group.
In September 2015 Skype rolled out a succession of "mojis" – custom emojis that included video clips and animations from Universal Studios, BBC and Disney muppets. A set designed by Paul McCartney followed in February 2016.
In 2017 Microsoft redesigned Skype to look more like Snapchat, with a Highlights feature allowing users to share temporary copies of their photos and videos.
Neither effort enamored users who just wanted quality, reliable video conferencing.
"Cool" was not an adjective users associated with a difficult app so that attribute did not stick.
Skype app ratings in the Apple App Store in the U.S. dropped from 3.5 stars to 1.5 stars.
Meanwhile in 2016 Microsoft launched Teams, a "unified communication and collaboration platform." Microsoft invested heavily in Teams, which did everything Skype could do but better.
Reports of Skype's Death Are Not Exaggerated
In September 2018, Skype Director of Design Peter Skillman announced yet another Skype redesign based on customer feedback. But it was too little too late.
On July 30, 2019 Senior Product Marketing Manager James Fray announced that Skype for Business would cease to exist on July 31, 2021.
Skype's demise was sealed before the coronavirus hit.
Once the pandemic arrived, many Skype customers jumped to Zoom for its reliability and ease of use. First-time video conference users went directly to Zoom.
The moment that could have been Skype's glory went to Zoom instead.
And while Zoom has grappled with privacy and security issues, its focus on user experience and attention to those issues keep many users on the platform.
Leverage Your Brand Identity to Grow and Avoid Costly Mistakes
Your brand identity is not a nice-to-have, but the rudder of your business.
To avoid Skype's fate and grow your brand:
Identify your brand's purpose. It should be clear, timeless and not product dependent. Notice how Zoom's purpose – make communication frictionless – is not tied to a particular technology.
Share your purpose. Everyone on your brand team should be using the purpose as a guideline to decide offerings, align processes, serve customers and interact with partners.
Determine your brand's attributes. These are a combination of what your brand is known for and what it aspires to. Your attributes should be unique to your brand – not characteristics required in your category to compete.
Infuse everything with those attributes. Your communications, packaging, customer interactions, work place environment (on site and remote) – all should ooze your brand attributes. Repeated use and consistent adherence to your attributes is what builds your brand's reputation.
And as you saw with Skype, in the absence of deliberate brand attributes your audience will assign their own.
Once set, you should not need to revise your brand identity unless market conditions evolve so that it no longer differentiates your brand.
At meeting time my new client called me on the phone instead of Skype. Not worrying about Skype's technology meant the call was easier and more relaxed.
After the call, I uninstalled Skype. I'm hoping not to need it.
Are you video conferencing? If so, what's been your experience?
P.S. Because what we all need is MORE screen time…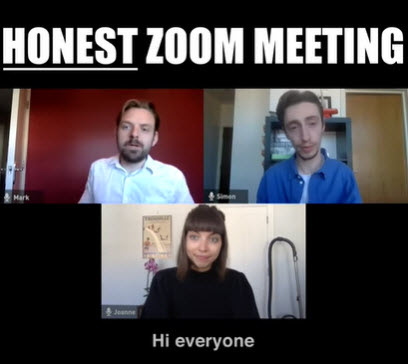 "Honest Zoom Meeting" (3 minutes) Early in the pandemic creative agency Don't Panic put together this caustic, somewhat profane, entirely inappropriate and very funny video.
Coronavirus Parody H of the Stage's original song set to the sounds of Skype. (3 minutes 22 seconds, but song ends at 2:14)
14 Hilarious Tweets About Video Calling That Everyone Can Relate To Right Now No Twitter account needed. My favorites are #4, 8 and 14 (4 minute read)
If you liked this post, you'll love the next one. To have future posts sent to your inbox, click here to subscribe.