I used to joke that chocolate was a food group.
I'm no longer joking.
My diet contains a small daily dose of dark chocolate (or two) which I take with the devotion I used to give to a multivitamin.
My husband Dan knows of my passion for dark chocolate and shares my affinity, but not my habit.
On vacation in the Berkshires, we saw this sign on a street in Lenox and excitedly went into the store.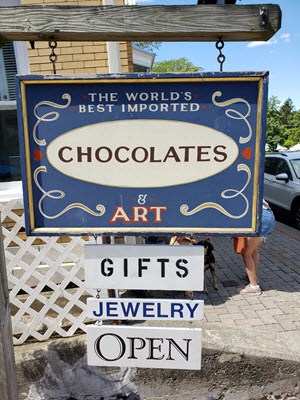 Once inside, we saw the scene below.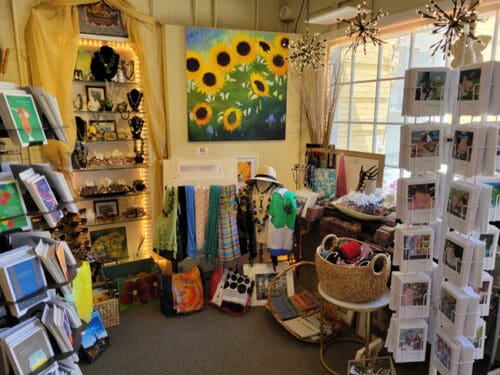 The look on our faces must have shown our confusion.
Within a split second of entering, the salesperson behind the counter asked if we were looking for chocolate.
We said yes.
She then pointed to the small area near the window.
Her inquiry came so fast that it gave us the impression this situation occurred often.
With a bit more looking around we discovered a few chocolate offerings on three of the shelves showcasing jewelry to the left in the photo.
And that's all the chocolate there was.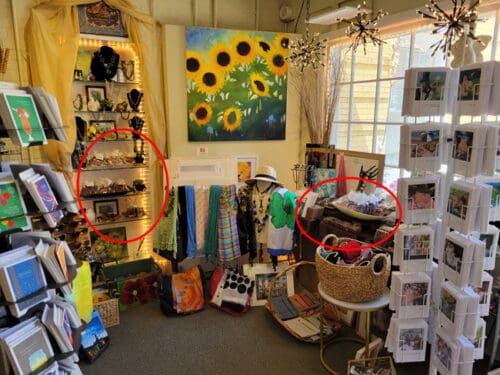 We glanced around for another moment, thanked the salesperson, and left.
Over lunch later Dan said, "you know, I think we've been fooled by that sign before, and I'm not going in there again."
If You Promise Chocolate, You'd Better Deliver
"Fooled" described how I felt too. Also disappointed and misled.
The sign on the street promised "The World's Best Imported Chocolates & Art," but spotlighted chocolates. The word Arts appears at the bottom, almost an afterthought.
But the store delivered the opposite. Art was the main meal. Chocolate was a condiment.
Please know that Dan and I go into art stores all the time. We seek out crafts fairs too. We like them.
When we go into an art store or attend a craft fair, arts and crafts are what we expect.
Here we expected chocolates. When the store delivered something different, it lost our interest even though we usually like art stores.
Feelings Override Finds
The contrast between the expectations the sign created and the offerings in the store felt like a bait and switch.
You never want your prospects to feel that way.
Your prospects shouldn't have to play where's Waldo if Waldo is the lead draw for your brand.
If you need to explain or redirect your prospects frequently, that may mean you have a mismatch between the expectation your brand creates and what you deliver.
It may also mean fewer prospects will become customers.
While it may be tempting to entice prospects with an alluring peripheral offering to get their attention, shifting quickly to unrelated offerings will raise their suspicions and turn them off.
This is why car salespeople have such a bad reputation. Dealerships are notorious for using a low-ball price to lure prospects into the showroom.
Once there, car buyers discover "that car has already sold, but let me show you this one."
Or that price did not include air conditioning, floor mats, power steering, power windows…you want wheels with that?
It's the reason people who ask to connect with you on social media and immediately pitch you their services turn you off. The expectation was connection, not sales.
While your prospects might be interested in your wares, the switch makes them feel duped which erodes their trust in your brand.
Trust is everything. Without it, your brand has no relationship with your customers.
Be Deliberate About Expectations and Check Them
Most cases of consumer disappointment are not bait-and-switch situations.
Those situations are a small subset of the greater realm of consumer disappointment which occurs when brands fail to meet expectations.
Brands in adolescence run this risk often. Many set their marketing at the start and fail to update it as they evolve.
When that happens, marketing communications and brand expectations don't match customers' experience.
If you are lucky, your customers will complain about the mismatch.
If you are not, your customers leave and you have no idea why.
A brand's goodwill can buy some time. But brands that bait and switch never develop goodwill in the first place.
Like that art store Dan and I will not be entering again.
To ensure your brand isn't inadvertently disappointing customers, talk to them.
Ask them about their experience, what they expected, and how your service measured up. What went well, and where you can improve.
Aim to delight them, not disappoint them.
And if chocolate is your brand focus, I may be calling soon.
***
Just for Fun
Speaking of a brand that delights customers, the Newport Folk Festival has a reputation for surprising attendees with guest stars.
This year Joni Mitchell graced the stage for the first time since 1969, and in her first full public concert appearance since 2000.
Even more inspirational was to witness her comeback after a brain aneurysm in 2015 left her unable to speak, sing, or walk. She retaught herself all that and how to play her guitar.
You can read more about her comeback and living room jams here, then watch her full 13-song set here.
Or cherry pick.
Two of my favorites are Circle Game and Both Sides Now.
Enjoy!
If you liked this post, you'll love the next one. To have future posts sent to your inbox, click here to subscribe.