My internet browsers open to the front page of The New York Times.
For years, the first thing I would see when I went online looked like this:
My go-to browser was Google Chrome. It seemed to function best with the apps I use.
On August 30, 2021, I saw my tech-world friend Evan's Facebook post advocating that people ditch Google Chrome for security reasons.
He recommended Brave instead as it is free, strong on security, and built on the same code base as Chrome.
Chrome's worsening privacy invasion worried me so I took Evan's advice.
The first time I opened Brave, I saw this: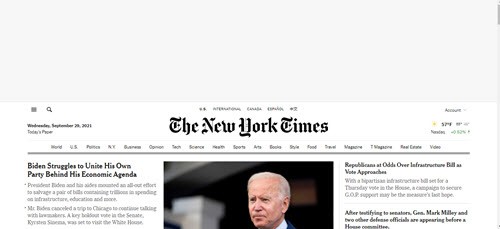 My brain exhaled.
See all the white space at the top? That caused my exhale.
I didn't realize how bombarded my brain felt opening my browser and reading the paper until that moment.
As I scrolled down the front page, white spaces abounded.
Every ad space was blanked out.
Can you get a hit of dopamine from the absence of something?
That's how good I felt. (Thanks Evan!)
Each time I opened a new tab, Brave posted stats in the upper left corner tallying the number of trackers and ads it blocked and the amount of bandwidth and time it saved.
It hadn't occurred to me that changing a browser could save you time.
Marketing Messages Bombard Us
Digital marketing experts estimate we see 4,000-10,000 ads per day.
Does that sound outlandish?
Marketing veteran Ron Marshall wondered about that statistic and decided to count his marketing message exposures for one day in 2015.
After racking up 487 exposures before finishing breakfast, he ended the experiment.
Just thinking I could see 487 ads before breakfast makes me want to go back to bed.
I realize that a marketing consultant dodging ads can seem odd.
Scandalous even.
Aren't marketing consultants supposed to like ads and advise you to do them?
Here's the thing. I figure if I don't like them, other people won't either.
Unwanted Ads Rob Our Time
My objection to most ads is that they waste my time.
Humans have a limit to what we can process at once. Our brains use about 20 percent of our metabolic energy.
When the demands on our attention exceed our capacity, we experience "brain overload."
I value my brain energy. It should be my choice how I spend it.
The time I spend processing unwanted ads is time I could have spent reading, watching or listening to something I wanted to see or hear.
Promoted posts. Unsolicited emails. Automated sales pitches that arrive via social media direct messages. Phone-bot spam calls.
When unwanted ads steal my attention, I feel robbed.
Brands that make me feel robbed repel me.
Time-Saving Brands Inspire Loyalty
By contrast, brands that save time earn my loyalty.
When I need clothing or shoes, I shop online at Nordstrom and Zappos because they have great search filters so I can find what I want quickly.
Their checkout processes are fast. They offer free shipping for delivery and returns. I can initiate a return and print shipping labels at home in two minutes.
No trips to the store. No waiting in line. No need for customer service unless something goes wrong. It rarely has.
I buy from Nordstrom and Zappos repeatedly because the process is quick, easy, and reliable.
Nordstrom's online business grew from 33 percent of the brand's revenues in 2019 to 54 percent in 2021.
This is not just a pandemic-driven shift from in-person to online shopping. Nordstrom's online sales have grown 24-28 percent from their comparable periods in 2019 each of the past three quarters.
Retailer Target acquired Shipt in 2017 to offer same-day delivery across the US and introduced Drive Up, its curbside pickup service, in 2018.
Target's sales through same-day services grew 55 percent in the second quarter of 2021, on top of 270 percent a year earlier. Total revenue rose 9.5 percent to $25.16 billion.
Starbucks rolled out its Mobile Order & Pay service in 2015, allowing patrons to order and pay online and pick up their order with no wait in store. From 2018 to 2020, mobile orders grew from 14 percent of sales to 24 percent.
Starbucks counts its loyalty program membership based on the number of members active during the last 90 days. That number grew from 15.3 million in 2018 to 24.2 million in 2021.
Retailers are not the only ones luring customers through time-saving measures.
Netflix streams movies to your home for a monthly fee so you don't have to go out to rent one.
Uber and Lyft allow you to order a ride instead of hailing a cab.
Gusto software-as-a-service saves business owners, accountants, and entrepreneurs hours of work processing payroll.
4 Ways You Can Save Your Customers Time
Even if your business is nothing like the brands above, you can take steps to save customers time to boost your brand.
1. Eliminate logjams. Begin your efforts by seeing the customer experience with your brand from their point of view.
Road test your customers' experience at each customer service touchpoint: phone, email, text, website. In-store if relevant.
Look for sticking points and delays. Where can you shorten wait times? Reduce purchase steps? If you automate your customer service line, how many steps does it take to reach a human rep?
Nordstrom shortened delivery times by fulfilling online orders from stores instead of a central inventory source. Sometimes you can pick up your purchase from your local Nordstrom store within hours.
Breaking out of the mindset of "This is how we've always done it" can help highlight opportunities to improve.
2. Allow self-service. When I'm in a time-sensitive mode, I want to find information and complete transactions myself. Customers like me can lower your customer service time and cost.
Starbucks' Mobile Order & Pay app's success shows how online ordering apps can grow your business.
Self-checkout lanes, user-friendly websites, online calendar booking, and a strong customer relationship management (CRM) system are other tools that can help provide a more time-efficient customer experience.
Don't abandon services for customers who want help. Just enable those who prefer to be self-reliant to do as much as they can on their own.
3. Provide helpful content. In addition to customers' desire for self-service, many prospects prefer to remain anonymous until they have determined they want to do business with your brand. You can help both with content that answers their questions.
Frequently-Asked-Question (FAQ) webpages work well. Answering FAQs on the relevant product or service webpage saves even more time. Many brands do both.
Zappos has a terrific FAQ page that categorizes the questions and words them as customers would ask them.
Other effective forms of content include videos, blog posts, white papers, e-books, case studies, and infographics. Choose the form that best helps your customer and provide the content at the point your customer will need it.
4. Go to customers when possible. Curbside pickup and delivery options have soared in popularity because they shorten or eliminate customers' travel time.
Uber and Lyft allow you to request a ride from anywhere. Netflix eliminated the trip to the video store when they started mailing DVDs, and then eliminated the need to leave the house at all with their streaming service.
Use Your Own Experiences as a Guide
I appreciate when someone helps me save time. I've yet to meet someone who doesn't.
Saving customers time is a winning strategy.
Five weeks after I switched to Brave, my new tab displayed that the browser had blocked 35,578 trackers and ads. It had saved me 1.43 GB of bandwidth and 30 minutes.

Think saving 30 minutes over 5 weeks isn't much?
I've seen drivers risk their lives to cut me off to save mere seconds on their commute.
People value time.
If you make doing business with your brand faster, you are likely to delight your customers and get them to return.
They may even tell their friends and colleagues about it, like I raved to you about Brave!
Just for Fun
Here's an ad I LOVE. And you know I don't say that lightly.
Hat tip to Ann Handley for featuring it in her newsletter.
If you liked this post, you'll love the next one. To have future posts sent to your inbox, click here to subscribe.