This post is an updated and enhanced version of one published November 14, 2014.
Have you heard a December holiday song yet?
It always amazes me how early the holiday music starts. I am among the 81 percent of Americans who don't want to hear it in stores before Thanksgiving.
But while I am not ready to endure endless loops of "Grandma Got Run Over by a Reindeer," I am already thinking about my business holiday cards.
In fact, I confess, I ordered them November 1st.
Why do I look forward to this ritual that many people find stressful?
Two reasons. First, I love handwriting cards and making a personal connection that way.
Second, I do them by choice, not from a sense of obligation.
For most people though, business holiday cards present a conundrum.
To send or not to send? Paper or e-card? Clients only? Or should you include employees, vendors, referral sources and prospects? How will someone feel if you don't send them a card?
And the biggest question of them all:  is it worth the effort?
Business holiday cards are one drop in the relationship marketing bucket.
The answer to "is it worth it?" is the same as all your other marketing efforts:  only if it furthers the relationship.
Here are my holiday card guidelines to help you decide if you should send them, and to increase your success if you do.
Do send a snail mail card. Don't send a mass email, e-card or e-video. 
The inspiration for this article came from a rant my husband sent me. He received several e-cards that turned out to be 1 – 1 ½ minute-long videos he characterized as "a completed waste of my time."
He also said, "[With a traditional card] I know my contact put in the thought of signing their name and making it at least a scintilla personal. I will display cards in my office for a few weeks. The video? Gone as soon as I forward it to you."
The companies that took the time to make the videos and send the email link actually hurt their relationship with him by annoying him. They would have been better off sending nothing at all.
Do personalize the card with a short message and your signature. Don't use a signature stamp or have an assistant sign for you.

Companies don't celebrate holidays. People do. A holiday greeting should be from sender to recipient. Recipients see right through efforts to delegate the greeting. If you can't sign the cards yourself, don't send them.
This does not mean you have to spend hours thinking up what to say.
Find a short, meaningful phrase you can use for everyone (like "wishing you a happy and prosperous year!"), then add something else only if you want to. That phrase and your signature will be enough.
Do keep it secular. Don't bring religion in.
Like the rest of your business communications. This helps your cards remain inclusive and keeps the focus on your relationship.
Do make it a pure greeting. Don't include a business card.
The presence of a business card casts a marketing-pitch-pall over the greeting and loses the sentiment.
Do send the cards in a timely manner. Don't sweat it if they are a few days off.
I aim to get my New Year's cards to recipients in first week of the New Year.
Many people have thanked me for the cards.  No one has ever chided me for not getting them there before New Year's (and many people aren't in the office that week anyway).
Do track your recipient list each year and make the decision to send a card a conscious one. Don't just send on automatic pilot.
Over time you will add and delete names from the list and that's okay.
Do give yourself credit for the cards you send. Don't berate yourself for those you don't get to.
You can always choose another holiday. And a handwritten card on a non-holiday is always welcome!
Remember that your goal is to further your relationship with the recipient. It's better to send 50 personalized snail mail cards than 5000 meaningless and forgettable e-cards.
Getting Started
Fifty? Did she say 50? OMG. [Heart palpitations.]
Okay, step back from the email.
Take a few deep breaths. Come back once your regular pulse returns.
Sending handwritten cards can actually improve your health, especially if you are expressing gratitude.
If you want to send cards but still feel stuck or overwhelmed, I can walk you through.
1. Choose a holiday. Yes, I'm serious. We're being deliberate about everything. If this time of year is crazy in your business, choose another holiday.
St. Patrick's Day. Arbor Day. Independence Day. King's Day (for my Dutch friends). Bastille Day (looking at you, France).
One year our family sent out Groundhog Day cards. Unusual? Weird? Yes.
Did they get noticed and bring smiles? You bet. Especially from the people to whom we sent the same card two days in a row!
Handwritten cards are always welcome.
2. Start with 10 or 20 cards. That's it. I saw your reaction to 50. We're not going there.
You can support small businesses, museums, and/or artists and feel doubly good about your effort.
Here are some great places to get business holiday cards for the December holidays. (I receive no compensation from these places.)
If you want help finding cards for a different holiday – or choosing a different holiday – reply to this email and I'll help you.
3. Choose your recipients. Don't overthink this. Who do you appreciate in your work? It can be a mix of customers/vendors/partners/co-workers.
Sending to employees is an excellent idea too.
If you are a boss, sending to some employees and not others could stir resentment, so please consider sending to your entire team if you are going this route.
4. Schedule card-writing time. Really. For this to happen, you need an appointment you will respect. For 10 cards, budget an hour. For 20, two hours.
5. Craft your message. Another place to not overthink. Something short and genuine will do. It could be as short as "Wishing you a fabulous 2022!"
6. Handwrite the cards and address the envelopes. Typed or printed-label addressed envelopes lose the personal aspect, while hand-addressed ones make the open rate soar.
One business owner reported a 99 percent open rate.
My hand-addressed-envelope open rate goes to 100.
Optional: add a sentence or two to your holiday message referencing one small aspect of your relationship.
If you have lunch plans in the new year, that could be "looking forward to our lunch on [date]." Or, "It was great to see you at [name of conference]."
7. Seal and stamp the envelopes. Or have your assistant or child do this. It's the one thing you can delegate!
8. Mail the cards so that they arrive on time.
9. Reward yourself. A fist pump, a victory dance, your favorite indulgent beverage. Acknowledge your accomplishment!
Please let me know if you get inspired by this post and follow through on your holiday cards. I'll send you a congratulations card celebrating your effort.
Whether or not you listen to holiday music as you write your cards is up to you. Just don't play it before Thanksgiving!
Teenage Wastebrand, Supersized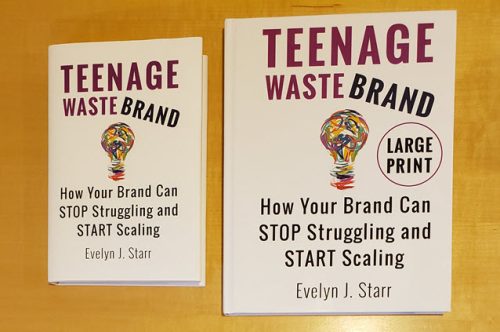 To best serve you, the audience for my book, I am producing versions that make it accessible to a wide array of business readers.
Including those with low vision, nystagmus, dyslexia, and other eye conditions that make reading a challenge.
Announcing…the large print version of Teenage Wastebrand! You can find all versions here.
Up next…I am getting ready to record the audiobook.
If you've read the book and are willing to review it on Amazon, I'd be over the moon if you would leave an honest review. Please? Pretty please? (I'm making puppy dog eyes at you.) You can use this link.
Reviews signal to Amazon that the book is worthwhile and make it visible to more people.
Just for Fun
Early holiday music isn't the only autumn irritant related to December festivals.
The North Ridgeville, Ohio police department had to reassure residents they would not be charged for putting up Christmas decorations before Thanksgiving after half-joking it would constitute disorderly conduct in their Halloween Facebook post. (Facebook account necessary for that link.)
Did you know that IMDb displays the user rating for This is Spinal Tap out of 11 stars? (You can catch the original trailer there too.)
Finally, in this video from Studio C, The Hartfords and the Joneses show how not to use holiday cards. (6 minutes, may be a bit traumatic for cat owners)
If you liked this post, you'll love the next one. To have future posts sent to your inbox, click here to subscribe.