On May 20, 1993, my then-boyfriend Dan and I watched the Cheers finale along with 84 million other Americans.
Unlike most of them, we watched from bleacher seats in front of the Bull & Finch pub, the Boston bar that inspired the series.
NBC was going to broadcast The Tonight Show with Jay Leno from that location and feature Cheers' cast after the viewing. I scored tickets to be in the audience that morning via my job (it's good to work in marketing!).
Dan and I arrived at 6:30pm. Jay Leno was there and signed our event passes.
The finale aired at 9:22pm to accommodate its 98-minute length. The cast of Cheers watched from a room above the pub.
By the time Jay Leno called them outside at the 11:30 start of The Tonight Show, the cast had been up there for hours. Drinking.
As he announced each name, they appeared. Ted Danson. Kelsey Grammar. Woody Harrelson. Rhea Perlman. John Ratzenberger. George Wendt.
Boy, were they wasted.
You could see the emotional toll the end of the beloved 11-year series was taking. How they rued the end of working together.
Viewers felt their chemistry too. It was part of what made Cheers believable as a place everyone felt welcome. A community "where everybody knows your name."
Humans Yearn to Belong
Cheers' appeal wasn't just hilarious sitcom entertainment. In depicting a bar that welcomed all comers, the show tapped the universal human need for community.
Loneliness runs rampant. Studies have linked loneliness to mental and physical illness.
When Cheers ran in the 1980s, 20 percent of Americans said they were "often lonely."
A December 2021 study showed 58 percent of Americans are considered lonely. The US Surgeon General shared his experience of loneliness and recently proposed a national framework to "rebuild social connection and community."
It's not just Americans.
Prime Minister Teresa May established a Ministry of Loneliness in 2018 after a report from the Jo Cox Commission on Loneliness showed 9 million people in Britain felt lonely.
A 2018 study of over 20,000 Americans revealed that people who have social support and meaningful daily interactions were more likely to report lower levels of loneliness.
Community counters loneliness. Humans yearn to belong and need strong social fabric to thrive.
Brands can help. One brand that has stepped up is Crocs.
Crocs Cultivates Community and Sees Sales Soar
I've been writing about Crocs for years. At least one reader told me I'm responsible for his owning a pair. (Hi Ira!)
I've no affiliation with the brand, but saw them struggling with their brand adolescence and hoped they would find the path I envisioned to survive it.
Crocs' first 14 years were a sales rollercoaster ride of trendiness ups and being outcast downs. People loved them or hated them. Haters vilified them publicly.
Like a middle school student, Crocs tried to appeal to everyone.
And like that adolescent, they found it didn't work. Unable to specify who they were and how they wanted to be perceived, they experienced a full-blown identity crisis.
That changed in 2017. Crocs leaned deep into their comfort attribute and declared their purpose as "dedicated to the future of comfort."
Crocs launched their "Come as You Are" campaign, telling tales of resilience and acceptance and welcoming "unique, one-of-a-kindness people."
People wanted in.
Not only did Crocs discover their identity, but they birthed a community: #crocsnation.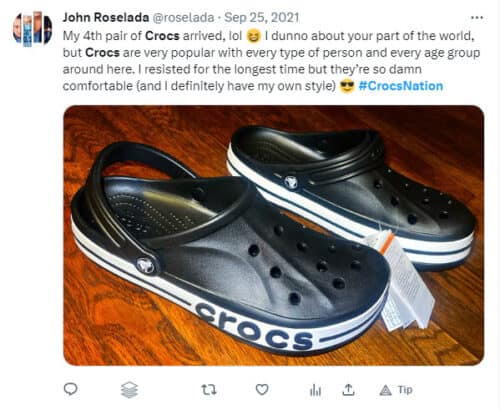 Crocs' social media posts stoke conversation among fans around comfort and their personal experiences.

Brand reps respond quickly to comments and to fans' posts. Their responses always show support and keep the conversations going, even when they take an unexpected turn. Like these exchanges in the comments on the tweet above: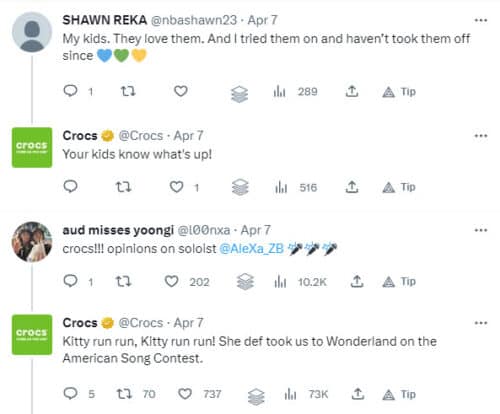 Crocs now has over 7 million followers on Facebook and 165,000 on Twitter.
After the "Come As You Are" campaign launched, Crocs' sales began to rise: up 6.2 percent in the fourth quarter of 2017, up 6.3 percent in 2018.
When the pandemic hit, comfort is what the world sought. Crocs' sales rose 12 percent in 2020, and an astounding 67 percent in 2021.
While many brands that surged during the pandemic have now seen demand wane, Crocs' community has kept sales double-digit strong: up 14.9% in 2022, up 19% for the first quarter of 2023.
Much of the sustained growth comes from people like Adreanna Alleyne, who owns over 60 pairs of Crocs shoes. She is active on a Crocs Facebook fan page, posts photos of her Crocs on her @crocthegram Instagram account, and views the brand as a way to connect with others.
She told The New York Times, "My Crocs are part of my self-care…You go in for the shoe, but you stay for the community."
What Brought Crocs' Community Together
In his book Belonging to the Brand, Mark Schaefer identifies 3 distinct features of a community. (Disclosure: I served as an editor on the book.)
A look at these features will help us understand how Crocs grew their community.
1. Purpose.
A common interest or goal draws people to a community.
Crocs' dedication to comfort and welcome to people who are "unique, one-of-a-kindness" resonate with Crocs' fans and attract people who want to be accepted as they are.
Community members bond over this value they share, which fosters trust. By declaring themselves part of #crocsnation, members signal to others that they will appreciate them for who they are.
As Mark Masters, founder of the You Are The Media community says, "When we surround ourselves with people we trust, it shapes our identity."
2. Relevance.
A community will exist as long as its purpose is relevant.
In a divided and often intolerant world, Crocs' accepting purpose feels timely. Given the human need to belong, it may be forever relevant.
3. Connection to each other.
Community members know, help, and communicate with each other.
On Crocs' Twitter and Facebook pages you find the brand in conversation with their community about occasions they wear their Crocs – proms, weddings, traveling, dates – often with members sharing personal photos and videos.
Community members chime in on and share posts about everything from Crocs' Nominate-a-Nurse contest which gave away 10,000 shoes, socks, and Jibbitz shoe charms to the winning nurse's hospital, to who was listening to Nicky Minaj's new release.
It's clear from the repartee members enjoy spending time there.
Can Your Brand Build Community?
Communities are the ultimate brand differentiator. The connection Crocs Nation members feel to the brand is hard for competitors to disrupt or replicate.
Building a community is a long-term, ongoing endeavor, not a one-time campaign. If fans commit to your brand, they expect you to be there for them.
To see if your brand has the potential to build community:
Assess your purpose. Does your purpose motivate your employees and your customers? Is it relevant to them? If you haven't defined your purpose yet, start.
Communicate your values. Shared values unite communities. Do yours motivate your employees and draw support from customers?
You can't attract community members if they don't know what your brand stands for. If you haven't codified your values, do that, and be sure to involve your employees.
Scout for existing community activity. Look for a place your brand community may be connecting, in person or online. It's easier to build where your potential community members already hang out.
If you don't find one, is there an obvious place your customers spend time? Or does your brand lend itself to in-person events like a convention or outing?
Evaluate your responsiveness. Communities need support. Timely responses are key. Brands that take hours or days to respond to inquiries, posts, or comments will not gain or sustain the momentum a community requires.
Ensuring you have the resources to support and respond to the community gives your brand a better likelihood that it will take hold.
If you find your brand has a purpose your audience finds relevant, values they share, a good place to meet, and an excellent response team, you have the potential to build community.
Given the huge benefits of community membership, you can understand how wrenching it felt to the cast of Cheers to have their show – their purpose – ended.
And why they were drinking so much.
Not everyone could hold their liquor.
Right after she was announced, Rhea Perlman leapt onto Jay Leno.
What you can't see in the episode is what happened during the commercial break after that.
Rhea Perlman suddenly rushed the stands, climbing over people in the bleachers and landing…in Dan's lap.
Do you remember where you watched Cheers' last episode?
***
You Can Hear Me Now
Thanks to Dan Nestle for having me on his podcast. We had a fun, wide-ranging conversation about brand adolescence and how to get your brand through it.
Dan includes amazing show notes for the episode. See those and listen here.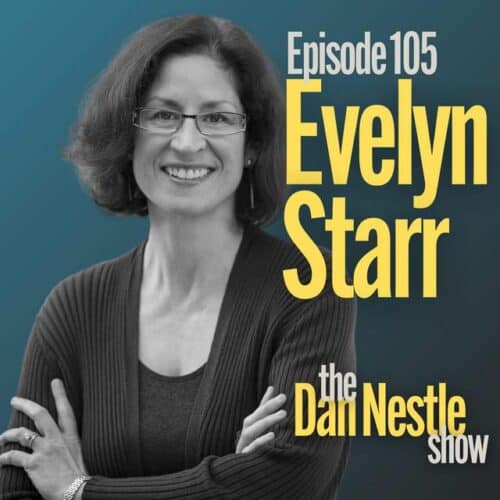 ***
Just for Fun
If Crocs had been around during Cheers' run, I think Cliff Clavin might have tried to sell them, instead of selling these. (2 minutes, 45 seconds)
Cheers' last scene. (4 minutes, 45 seconds)
Not only did everyone know Norm's name, but they yelled it every time he entered and then asked him what was new. See his hilarious answers every time he walked in here. (18 minutes, 36 seconds)
And if you really have time to spend, watch The Tonight Show episode we saw from the bleachers. (58 minutes, 24 seconds)
The cast enters at 6:22 in the video.
Jay walks through the bar and chats with a who's who of Boston sports legends, politicians, and comedians. (starts at 9:58)
My favorite part is the end, when Jay talks to Gary Portnoy and Judy Hart Angelo about how they wrote the theme song and then Gary sings it. Find that at 53:38 on the video.
Enjoy!