I was a persistent child. How persistent? Let's just say that several times during my childhood my father wished, "May you have a child just like you."
Well, I did. Two of them.
On a Monday in early January 2004 my daughter Fiona came home from preschool and demanded to know when we were going to Disney World. Several of her friends had gone during the December break, so when were we going? My husband Dan and I just smiled and said we did not know.
She inquired again on Tuesday. On Thursday. On Saturday. On Sunday. Our 5-year-old son AJ began asking as well.
At this point, I knew we needed a specific response to stop the incessant inquiries.
So Dan and I chose a date for the trip…over three years in the future. We told the kids we would take them when Fiona was in first grade and AJ was in third grade.
A trip to Disney World requires a major cash outlay. There was no way we were going until the kids had the stamina and were old enough to remember the trip.
Besides, by setting it three years in the future, there was a chance they would forget about it, right?
No. No chance.
Fast forward to August 2006, after no mention of Disney World for two and a half years. One day out the blue AJ, now 8 years old, got a big smile across his face. "This is the year we are going to Disney World," he said.
I blanched. The next day I began planning our trip for April 2007.
In addition to the cash required, a trip to Disney World merits a level of planning worthy of a military strike. With that kind of time and monetary investment, Dan and I just wanted to relax when we got there.
So we decided to give the kids a vacation allowance. No haggling over desired souvenirs. But when the allowance was gone, that was it.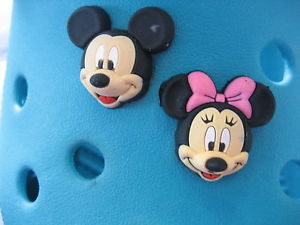 We were off the Monorail three minutes and five steps into Tomorrow Land when Fiona spotted her first purchase: Jibbitz charms for her blue Crocs.
Crocs were all the rage in 2007.
Founded in 2002 by three friends who initially started selling the resin-made clogs as boat shoes, Crocs had become a full-blown fad. The resin, branded Croslite, was lightweight, resisted odor and fungus, and conformed to the wearer's footprint from body heat. These properties made Crocs incredibly comfortable.
They were ugly, but they were everywhere. For fans, comfort trumped fashion. From Nordstrom, kiosks, and Crocs-branded stores to pharmacies and gift shops, you could nab a pair anywhere. In 2007 Crocs hit $850 million in sales and netted $200 million in profit.
A year later, the brand lost $200 million. Having oversaturated their market, they were no longer special. Management blamed the recession, but at only $30 a pair, that was unlikely to be the primary reason for the brand's troubles.
To boost the brand, management launched several new styles and announced global expansion plans.
The all-out effort lifted profit to $150 million in 2011, but they soon found the brand flailing again. On July 14, 2014 they announced 183 layoffs and the closing of 100 of their 600 stores.
At 13 years old, Crocs is typical brand in adolescence with an identity crisis.
Like the new kid in high school who edits clothing and behavior to conform to each clique she encounters, Crocs tried to appeal to everyone and had no clear appeal to anyone.
Where Crocs missed the boat was not defining and sticking to their core customers in the first place. Including, as it happens, boaters.
Happily, like that misguided teenager at a new high school, Crocs could still find its place and thrive.
To surmount Crocs' brand adolescence, Crocs' management should:
Start with the brand's authentic characteristics and image. Crocs can credibly claim comfort as a key characteristic, as well as ease-of-use, non-slip, hygienic and therapeutic properties.
Focus on its core customers. Core customers should be large segments that benefit from the brand's differentiating factors: children, workers who are on their feet all day, boaters and athletes.
Limit product offerings to ones that support the brand's authentic characteristics and core customers. Indeed in July 2014 the company did announce plans to streamline their global product portfolio. Hopefully they will use relevance to the brand and to core customer segments as a litmus test in the weeding process.
Market the brand based on its authentic characteristics and on the emotional benefits from the brand. Crocs elicit a lot of emotion – people either love them or hate them. If the brand can get past trying to win the haters, it can soar on its fan base.
Crocs' marketing strategy for the next few years must include defining its brand to become known for its differentiating characteristics and becoming the go-to player among its core customer segments.
Evolving the Crocs brand to a successful long-term industry player will require persistence.
Maybe I should deploy Fiona and AJ to them.
How do you feel about Crocs? Please share your thoughts in the comments.
If you liked this post, you'll love the next one.
To have future posts sent to your inbox...