I didn't have to convince my children to stay off their cell phones when they had friends over.
My kids were in middle school before smart phones became common.
But I was that parent who limited screen time during playdates. My challenge was mitigating Game Boy use. A half-hour, tops.
Wii games were okay.
My point, which I reiterated dozens of times, was that I wanted my children to talk to their friends. Wii games prompted interaction.
So much good comes from in-person conversations: life skills like knowing how to listen, to respond, to communicate clearly, and to build relationships; the joy of feeling you've been heard, understood.
High school was harder. When we went out to dinner, it was too easy for everyone to focus on their device until the food came.
One night at a French restaurant in Brookline, Massachusetts, my husband Dan introduced a trend he had heard about called stacking.
Stacking was the practice of everyone at the table layering their phones on top of each other, face down. The first one to reach for their phone had to pay the restaurant bill.
I loved this.
We began stacking each time we ate out. It helped us enjoy each other's company.
Sharing Values Is Good for Brands Too
Through direct explanation, playdate management, and stacking, Dan and I conveyed our values on human interaction and relationship building to our children.
Our efforts have rewarded us with memorable dinner discussions, event participation, travel, and the wonderful relationships we have with our kids.
Our shared values support our sense of belonging in our family.
Brands that share their values benefit too.
The 2023 Edelman Trust Barometer found that 63% of respondents across 14 countries (over 16,000 respondents) said "I buy or advocate for brands based on my beliefs and values."
Companies reveal their brands not only by their words, but by their actions.
Seventy-seven percent (77%) of people think companies should be transparent about their promises and commitments, according to the Havas 2023 Global Meaningful Brands™ report (over 91,000 respondents, 10 markets).
But only 33% think they are.
That's a huge gap. And a huge opportunity.
Per the Havas report, top-rated Meaningful Brands™ outperform the stock market by 222%.
What's the big deal about values?
As Brooke Sellas says in her book Conversations That Connect, "…while taking a stand seems hair-raising, it's just humans wanting to connect with other humans."
People yearn to belong. Brands that share and uphold their values attract customers and employees who subscribe to those values too.
Strong Stands Benefit Brands: Nike, Patagonia, and REI
Brands who take a true stand convey and reflect deeply embedded company values.
Their stands are not one-time marketing campaigns, but actions and communications you would expect from an entity with their professed stance.
Nike's controversial "Dream Crazy" ad featuring Colin Kaepernick in September 2018 surprised the public.
But look at this statement on their website: "We champion continual progress for athletes and sport to help them reach their potential."
And Nike's mission: "Bring inspiration and innovation to every athlete in the world."
Nike is clear about their brand values inspiring, innovating, and championing progress on behalf of athletes.
From that perspective, the Kaepernick ad is spot on. Whether or not you agree with the ad, it reflects the brand's values well.
Nike's core audience of aspiring athletes felt the brand love and support. Sales rose 10% during the quarter Nike released the ad.
That's why it is so important to know your audience well and to build your brand community around your values.
When Patagonia announced the company was donating the $10 million they saved from tax cuts in 2018 to environmental groups, some in the business community marveled at their move.
Patagonia had been donating 1% of sales to these groups since 1985. Their community nodded and rallied around them.
REI – which stands for Recreational Equipment, Inc. – is a co-operative where customers can pay $20 for lifetime membership. The company formed in 1938 to help members "experience the transformational power of nature."
Since 2015, REI has been closed on Black Friday. Employees get a paid day off. They don't process online orders that day either.
The rationale? Countering excessive consumerism and encouraging the REI community to get outside instead.
While the retail world wondered at the foregone opportunity, REI saw membership rise to its highest level yet in 2015 and registered a 9.3% increase in revenue to $2.4 billion.
Not Every Brand Value Move Has to Make the News: Barnes & Noble, Passion Restaurant Group, L.L.Bean
Not every expression of values needs make headlines or be controversial to be effective.
It's enough if your brand community knows.
Like when Barnes & Noble encourages local store managers to curate selection based on their community.
Or when Passion Restaurant Group in Miami provides a box for diners to stack their cell phones so they can enjoy each other's company, as in the photo above. My kind of restaurant!
Or when L.L.Bean honors Mental Health Awareness Month in May by taking a break from social media to encourage people to spend more time outside, a known uplift.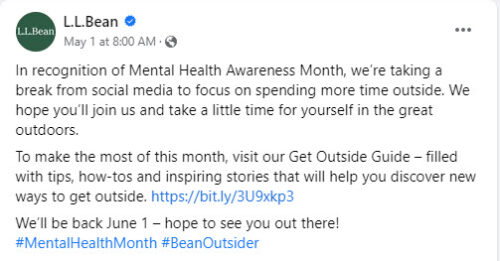 Disregard Values at Your Brand's Peril: Bioré, M&Ms, Boeing
When a brand's actions violate their values, people notice. At best, these moments are cringe-worthy. As worst, they kill.
I cringe when I see brands appropriate values for marketing campaigns, with no gravitas or backbone behind the effort.
And sometimes, a mind-blowing lack of forethought.
Under the guise of supporting conversations about mental health, Bioré Skincare launched a TikTok video that seems to suggest using their pore cleansing strips could alleviate the trauma of a school shooting.
Judging by the comments to a post about this video on Twitter, thousands of other people cringed too.
M&Ms bobbed and weaved when Tucker Carlson and other people complained about their spokescandies reflecting more diversity. Their credibility about being inclusive took a direct hit.
For years, Boeing claimed safety as a top priority.
Behind the scenes, however, they were cutting corners and working FAA connections to speed certification of their 737 MAX model plane.
Skimpier inspections, testing, and training led to two crashes in early 2019 that killed 346 people.
The crashes prompted investigations, a two-year grounding of the model, multiple court cases against Boeing for wrongful deaths, millions of dollars in restitution, and a huge backlog of orders the company is still struggling to deliver.
Those business repercussions don't include the horror of the tragedies and the public loss of trust.
Though the model has endured two years of scrutiny and fixes before quietly returning to service, I still won't fly in a 737 Max. I chose flights for an upcoming trip to Europe to avoid that model.
When Your Stand Endangers Your Brand: Bud Light, Target
The US has grown more polarized. Extremists have felt emboldened to react in more dramatic and sometimes dangerous fashion. They've used social media as a megaphone to call brands out and threaten them.
Anheuser-Busch, maker of Bud Light, has been a friend to the LGBTQ+ community. In past years, they have released rainbow-decorated bottles and cans of Bud Light during Pride month.
More substantially, the company earned a "Best Places to Work for LGBTQ+ Equality" seal of approval from the Human Rights Campaign, the US's largest LGBTQ+ advocacy group.
On April 1, Bud Light sponsored an Instagram post with trans influencer Dylan Mulvaney.
The post prompted some conservative customers to call for a boycott of the beer. Kid Rock released a video of him using an assault weapon to destroy cases of Bud Light.
Bud Light sales have dropped from a steady 10% of US retail beer sales to 7.3% in the four weeks ending June 3.
Anheuser-Busch CEO Brendan Whitworth said "We never intended to be part of a discussion that divides people. We are in the business of bringing people together over a beer."
The company put the two executives who partnered with Mulvaney on leave.
On May 9, the Human Rights Campaign informed Anheuser-Busch they were suspending their Corporate Equity Score, which rates companies on their LGBTQ+ policies and underlies the "Best Places to Work" seal. They have 90 days to respond before their rating is docked.
Bud Light managed to disappoint on both sides of the aisle and weaken their brand in the process.
In May Target placed displays of its Pride collection near the entrance of many of its stores.
Some customers screamed at employees and threw the merchandise on the floor. Others called for a boycott via social media.
Citing employee safety, Target removed some of the offending items and transferred the displays to less visible locations.
Target's actions elicited criticism from the LGBTQ+ advocates.
A customer in the Mufreesboro, Tennessee store recorded a Tiktok video, saying, "So disappointed in @target right now. You literally hid your LGBTQ 'support' so as to not offend hateful small minded people. Dont seem too concerned about offending your own employees and loyal customers though."
Like Bud Light, Target found itself in a challenging position, losing goodwill in multiple places.
How Your Brand Can Take a Stand without Getting Panned
Taking a stand is both expected of brands and lucrative for them, when done well.
Hearing about Bud Light, Target, and other brands experiencing backlash, it can feel less like a stand and more light navigating a mine field.
While I cannot guarantee your brand would receive no negative feedback, following these steps can strengthen your brand.
1. Choose an issue that matters to your customers and synergizes with your brand.
REI and L.L.Bean's chosen stands relate to encouraging people to be outdoors, a value they share and a key component of their purposes. That's why they resonated.
Some marketing experts suggested that the backlash Bud Light experienced was due to the beer having a more politically conservative customer base.
Your stance is a strategic, long-term decision, not a marketing campaign. It requires you to know your customers well, not just who they are, but what is meaningful to them.
2. Be informative, not political.
Customers don't want a serving of politics with your product or service. Employees don't want politics at work.
In a world where any issue can feel political, the best way to take your stand is to offer trustworthy information on the issue.
Forty-six percent (46%) of the Edelman Trust Barometer study respondents supported that approach.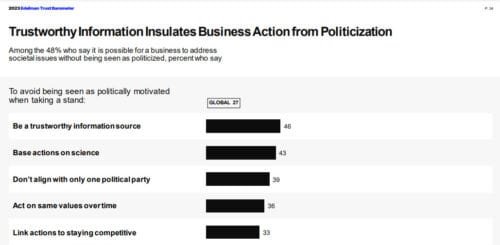 When L.L.Bean announced their May social media hiatus, they explained "time spent in nature 'can lower stress hormone levels, increase self-esteem, reduce anxiety and improve mood.'"
Passion Restaurant Group put the benefits of cell phone stacking right on the box provided: "…we promise that you will have a more enjoyable dinner, an improvement in your relationships, and definitely a better gastronomic experience."
Your stance needs to show you support the issue and are looking out for the best interests of your brand community.
3. Assess your company's internal consistency on the issue.
Your chosen stance should be an issue that you and your company not only hold dear, but are already supporting through your actions and policies.
Or at least, not countering. Nobody likes a hypocrite.
First, you need to know your employees' feelings on the issue.
They are your brand team. Your brand values guide your employees' work, which conveys them to your customers.
The success of your stand depends on having your employees' support.
Second, you need to ensure you are adhering to your stand in-house before you can credibly claim it with your customers and prospects.
Conduct an internal audit, perhaps with an outside consultant, to see if your brand's stance will hold up.
Correct any inconsistencies the audit finds.
As soon as you begin communicating your stance, your community and the public will be scrutinizing your brand to see if you are living the values you espouse.
If Nike wanted to credibly claim they champion progress for athletes and inspire them, they needed to show their support for the movement Colin Kaepernick started as well as any athlete who used their platform to advance social justice.
4. Map out how you will infuse your brand with your stand.
Plan not just your launch but also how you would keep the conversation going. A true stand will underlie your decisions, messages, partnerships, and products.
Brand stands go on all year. Not just in the run up to Superbowl ads (ah hem, M&Ms) or Pride month (Target).
Patagonia's constant 1% donation to environmental groups made their $10 million tax refund repurposing another day at the office.
5. Get feedback, anticipate reactions, prepare responses.
Like any good brand communication, test your planned messaging and images among some customers and employees before going public. They will be able to raise issues you and your team may not see, like double meanings or unintended impressions.
Insights from this feedback will help you improve your communications and prepare for public reactions.
Don't just assess the risk to your brand with that analysis. Delve into the likely reactions and prepare responses to them. Yes, these should be tested too.
All your effort will be rewarded when you can respond quickly and confidently to your brand community.
M&Ms was blindsided the first time they elicited Tucker Carlson's ire. But the second time, they should have been ready with a better response.
Nike likely researched reactions to their "Dream Crazy" ad campaign and determined it was worth the risk.
That helped them remain calm when some people called for a boycott and posted images of themselves destroying their Nike gear on social media.
You will not please everyone. Make sure you stay focused on your brand community and your priorities.
6. Launch and engage.
Remember you are taking the stand to build community.
Your best outcome involves generating lots of conversation with your brand's constituents and getting to know each other better.
Make sure your entire brand team is ready to reply quickly to posts, comments, and any other way your customers respond. A chat at the register counts!
Some conversations may feel contentious. Seek to understand and be understood. Respond with your informative points.
Your stand will take effort. So did monitoring Game Boy usage during playdates and stacking our phones during dinners out.
But like our kids, you can rise to the challenge. They never got stuck with the dinner bill!
***
Brand Building for Bootstrappers
Arvid Kahl and I had a great chat about what bootstrappers should focus on when building their brands and how their brands may evolve over time. It includes:
– the biggest misperception entrepreneurs have about brands
– how much your competitors should influence your brand
– differentiating between personal and professional brands
– what size your starting niche should be
– why you can influence but not control your marketing
…and more.
Watch/listen (49 minutes, 49 seconds) or read the transcript. It's a fun conversation!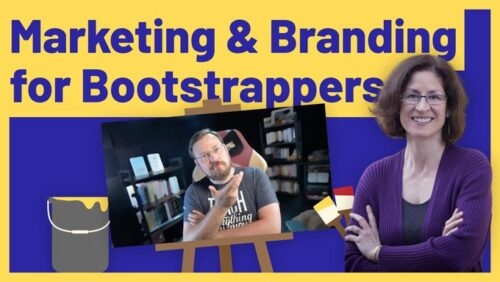 ***
Just for Fun
See what happens when Levi's tries to take a stand to please everyone (SNL, 2 minutes, 20 seconds)