Updated August 7, 2023
I didn't have a Barbie doll when I was growing up. That was by design.
I asked my mother about that recently.
She objected to Barbie's "unrealistic female form."
She said, "this is the kind of idealized female body which few girls would grow up to match and which was probably designed by men. It was not the kind of thing I wanted my daughters to understand about dolls."
Turns out Mom was right.
Barbie's physique was based on Lilli, a high-end German call-girl cartoon character drawn by Reinhard Beuthien in the 1940s for the Hamburg-based tabloid Bild-Zeitung.
In 1953, the character's popularity led to the creation of a 3D "escort" doll meant as a gag gift for German adults, often given at bachelor parties.
My mother was not alone in her disdain for the doll's idealized physique. Many mothers viewed Barbie as reinforcing ridiculous beauty standards.
Renown actor, screenwriter, and director Greta Gerwig (Lady Bird, Little Women), said "The one that always felt the most pointed to me [about Barbie] was that if she was a human being, she wouldn't be able to hold her head up."
To scale, if Barbie were a real woman, her head would be two inches larger than the average American woman's head. Her neck would be unable to support it.
Her head would also be 6 inches bigger than her waist. Her size 3 feet and tiny ankles would be no match for her big head and bust. She'd have to crawl on all fours to move around.
Barbie's anatomically impossible figure and my mother's careful curation of my dolls led me to dislike Barbie. But Gerwig and many other girls loved her.
When asked to write a movie script for Barbie, Gerwig jumped at the chance.
And while I dislike the doll, the movie's marketing made me want to see it.
Building the Barbie Movie Brand Separate from the Doll
Please know I'm not being paid to hype the movie. Given my feelings about the doll, I never thought I'd be writing about anything Barbie.
But the movie's tagline — "If you love Barbie, this movie is for you. If you hate Barbie, this movie is for you," — gave me an inkling that it might be more than just a long toy commercial.
I got interested as I learned about the cast. It includes Margot Robbie, Ryan Gosling, Kate McKinnon, Dua Lipa, Issa Rae, America Ferrera, Will Ferrell, Simu Liu, Michael Cera, and Rhea Perlman. Helen Mirren narrates.
Enough actors I enjoy to make me willing to give it a go. Who doesn't like Ryan Gosling?
The behind-the-scenes crew got me even more interested. Greta Gerwig and her partner Noah Baumbach (The Squid and The Whale, Greenberg, Marriage Story) wrote the script. They are smart movie makers and great storytellers.
The trailer turned my interest into ticket-buying intent.
Thirty-two seconds in, Barbie asks "Do you guys ever think about dying?"
Barbie dealing with real life stresses? This I wanted to see.
The trailer established the setting for the movie and the premise of Barbie's journey, but didn't give away the story or the ending.
How refreshing!
That's how Barbie's marketing began to build the movie brand in my head.
The marketing campaign that got me to want to see something related to a doll I've disliked for decades earned my respect. It made me want to learn from their approach.
4 Brand-Building Lessons from Barbie
You don't have to have Barbie's $150 million marketing budget for your brand to benefit from their expert example.
Barbie demonstrated four brand-building components crucial for success that your brand can emulate.
1. Deep audience understanding.
Before starting to write the Barbie screenplay, Mattel had Greta Gerwig come to their El Segundo, CA headquarters for a "brand immersion." She visited the Barbie factory and the Mattel museum areas dedicated to the doll.
Gerwig played with dolls until she was 14, and soaked up every bit of information she could about Barbies and how girls played with them.
The details in the movie reflect Gerwig's research and insights.
The intense use of pink. The openness of the Barbies' houses.
The way Barbie remains on tiptoe early in the movie and floats down from her Dreamhouse second floor to her car.
Seeing these details in the movie trailer thrilled potential audience members because they reflected their experience with Barbie. They generated nostalgia and signaled the movie would be authentic.


Develop a deep understanding of your target audience and reflect that in your marketing. Make that effort a priority and the foundation for your brand.
2. Authentic, high-quality product.
Gerwig used her deep Barbie knowledge and the $145 million production budget to craft a top-notch movie.
The A-list cast, over-the-top sets, extensive costumes, and details that nodded to their Barbie-doll experience promised theatregoers they would get value for their time and money investment to see the movie.
Previews also showed the movie would not dodge Barbie's controversial history.
Barbie was introduced in 1959. Ken arrived in 1961. Barbie was already getting flak for being "too sexy," so in 1963 Mattel introduced Midge who had the same body as Barbie but auburn hair, freckles, and less make-up.
A year later, Mattel introduced Allan, Midge's boyfriend, so the two of them could double-date with Barbie and Ken. But Midge and Allan were never as popular as Barbie and Ken, and Mattel discontinued them in 1966.
Midge came back in 1988, and Alan (now with one less L) reappeared in 1991 to marry Midge. All seemed fine until Mattel launched a "Happy Family" collection with Midge and Alan's 3-year-old son Ryan and a pregnant Midge.
Some parents criticized pregnant Midge and she was removed from shelves. Alan disappeared when the "Happy Family" line was phased out as well.
On April 4, 2023, Warner Brothers released 24 posters featuring Barbie movie characters. Midge and Allan were among them.
Including discontinued characters like Midge and Allan added to the movie brand's authenticity.
Show your customers how you invest in your brand, whether it is in materials, time, money, or service upgrades. Address issues and communicate how you are improving.
Candid conversations and transparency build credibility and establish your brand as authentic.
3. Patience.
As I've said before, the definition of a brand is "the expectation of what you will get when you interact with an entity based on prior experiences with, and impressions of, that entity."
The Barbie marketing team understood that the movie's success depended on giving potential viewers multiple impressions of the movie in advance so the brand would be strong by the time it was released.
 Barbie marketing started with a sneak peak of the movie at CinemaCon in April 2022, 15 months before its release.
Photos from the movie set surfaced in June 2022 and generated excitement.

On July 21, 2022, Ryan Gosling appeared on The Tonight Show Starring Jimmy Fallon, told the host Barbie was "the best script I ever read," and painted the host's nails pink.
While Margot Robbie was on The Tonight Show in September 2022 to promote Amsterdam, she shared juicy behind-the-scenes tidbits about making Barbie.
Both interviews generated press about the movie.
On December 15, 2022, viewers of Avatar: The Way of the Water were treated to Barbie's teaser trailer, which was then posted on YouTube.
Warner Brothers released the second teaser trailer on April 4, 2023, along with the 24 character posters I mentioned earlier.
By the time the usual two-months-before-release marketing blitz arrived – full trailer, Dua Lipa Barbie music video, Spotify movie playlist, media articles galore – moviegoers had been hearing about Barbie for over a year.
By starting 15 months in advance, the team stoked anticipation of the movie while building a strong brand image.
Patience is the most challenging brand-building element.
Brands who rush to sell without establishing credibility, demonstrating value, and allowing time for a positive image of the brand to develop repel prospects who could have become enthusiastic customers.
Court your prospects with patience.
4. Audience engagement.
Barbie's marketing team created opportunities for fans anticipating the movie to interact with it.
The Barbie movie website featured an AI poster generator. Future moviegoers enjoyed the experience of creating their own Barbie movie posters and built another emotional connection to the brand.
I certainly did!
Social media posts featuring these posters doubled as free advertising for Barbie.
An 8-city global publicity tour featuring several of the movie's stars began in Sydney, Australia at the Pitt Street Mall on June 30 and included Los Angeles, London, Mexico City, and Seoul before the actors' strike shut it down.
Warner Brothers hosted a Barbie Boat Cruise on Boston Harbor on June 30.
Airbnb listed a couple of stays at Barbie's Dreamhouse, with Ken as host.
All these opportunities allowed thousands of fans to engage with Barbie.
The more you deliver memorable experiences to your customers and connect with them in-person, the more their affinity for your brand will grow.
Barbie Soars Beyond Expectations
At the end of June, opening weekend projections for Barbie ticket sales ranged from $55-80 million in North America.
By July 19, two days before the release, projections had grown to $90-125 million for the US and Canada, and $165 million for the rest of the world.
Barbie blew past those figures, grossing $162 million for the first weekend in North America and $194.3 million overseas, for a worldwide total of $356.3 million.
Welcome news for a film that cost $145 million to make and $150 million to market!
Many moviegoers wore Barbie outfits or at least some hot pink article of clothing.
Barbie's box office momentum continued, crossing the $500 million mark worldwide in less than a week.
As of August 6, Barbie had pulled in $459.4 million for the US and Canada, and over $1 billion worldwide.
I'm a fan of the movie, still not of the doll
My mother's message about Barbie being an unhealthy idealized figure stayed with me into adulthood.
When my daughter Fiona was born in 2000, Barbie was still the same anatomically impossible doll. I never bought one for her.
After sales declined for three years straight and hit a 25-year low in 2014, Mattel finally researched how mothers felt about their daughters playing with Barbie.
Mattel conducted a worldwide study of 8,000 mothers and learned that they did not feel comfortable giving Barbie as a birthday gift. Eighty-six percent of them were concerned about role models for their daughters. They thought Barbie was shallow, too perfect, and materialistic, and did not reflect the world around her.
Moreover, a psychological study showed that playing with Barbies led girls to feel less capable about various careers than after playing with Mrs. Potato Head.
Mattel began offering different body types for Barbie in 2015. She now comes in original, curvy, petite, and tall. Mattel also launched 100 different skin tones, hair textures, face shapes, and eye colors as well.
I'm happy to say Greta Gerwig included a diverse array of Barbies in the movie. I enjoyed how she aired many oddities of Barbie and her world and poked fun at much of it.
I recommend the movie, but I still wouldn't purchase the doll.
Did you see Barbie? What did you think?
***
The Benefits of a Niche
Shelley Röstlund and I had a blast chatting about my 'Brands in Adolescence' approach on her podcast, The Brand Compass™.
We dove into how finding the right niche makes marketing and life easier, and I described a case study of my niche-coaching work with Maryrose Lyons.
Thanks to both Shelley and Maryrose!
You can listen to the podcast and see show notes on Shelley's website or watch the episode on YouTube. (31 minutes, 49 seconds)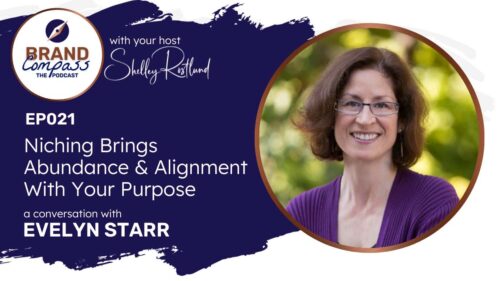 ***
Just for Fun
Tour Barbie's Dreamhouse with Margot Robbie as your guide on the Architectural Digest YouTube channel. (7 minutes, 24 seconds)
Watch Margot Robbie, Issa Rae, Kate McKinnon, Hari Nef, and Alexandra Shipp do a "dress up your Barbie challenge" from Time Magazine. (10 minutes)
See Margot Robbie and Ryan Gosling answer questions while managing a half dozen puppies in this Buzzfeed interview. You get a sense for what Ryan's parenting style. (8 minutes, 23 seconds)
Greta Gerwig shares the 32 movies that influenced her staging of Barbie. (15 minutes, 28 seconds)