**WARNING: Images of red wine stain on white carpet ahead. May not be suitable for all viewers.
Red wine and white carpet. Not a winning combination. Our living room is a testament to that fact.
We did not choose our white carpet. It came with the house which was only five years old when bought it. Changing the carpet was not a priority.
The red wine we did choose. And continue to choose…by the case. We've never let the carpet restrict our beverage offerings.
And so our living room carpet could tell many tales.
The book club meeting frivolity that toppled a glass and sent my fabulous friends into SWAT-team cleaning mode with seltzer, salt and other ingredients from an internet-recommended remedy. They did a great job.
The snooty golf club membership interviewer who looked down after his spill and said "I can't believe I just did that," and continued talking.
I've avoided investing much emotion in the stains and have erased the adverse incidents from memory. I am guilty of occasional strategic furniture relocation however.
Especially to hide the worst stain which I call the unicorn head: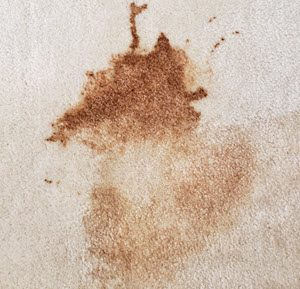 See? A unicorn head, right?
One remedy we never tried was WD-40. That never occurred to me until I was researching this article.
If It Doesn't Move and Should, Use WD-40
WD-40's usefulness is legendary. Eighty percent of U.S. households have it on hand. Evidence of WD-40's standing in our culture can be summed up by an unattributed saying:
"You only need two tools in life: WD-40 and duct tape. If it doesn't move and should, use WD-40. If it moves and shouldn't, use duct tape."
It doesn't take a rocket scientist to figure out how helpful WD-40 is.
Fun fact though: WD-40 actually WAS rocket science.
It was initially developed in 1953 as a rust-prevention solvent and degreaser for the aerospace industry. It took Rocket Chemical Company's team of three employees 40 tries to get the water displacement formula right. That's where the name comes from: Water Displacement-40.
See what trying and not giving up can lead to?
Aerospace contractor Convair first used WD-40 to protect the outer skin of the Atlas missile from rust and corrosion. Convair employees saw how well the product worked and snuck some out for home use.
Knowing that, Rocket Chemical Company Founder Norm Larsen introduced WD-40 in a spray can in 1958 with the idea that consumers might find a use for it.
Did they ever.
WD-40 was used to recondition rain and flood-water damaged equipment after Hurricane Carla in 1961. It was sent to Vietnam in goodwill kits to prevent moisture damage to firearms and keep them working smoothly.
Consumers' industrious nature kept finding more uses for the product which kept demand growing.
In 1969 Rocket Chemical Company renamed itself WD-40. The company went public in 1972, selling 300,000 shares.
Today the company has documented over 2000 uses for its WD-40 Multiuse product and has categorized them into five functions: lubrication, rust penetration, corrosion resistance and protection, gunk removal and moisture displacement.
Making Memories with WD-40
As helpful as the product is, WD-40 CEO Garry Ridge will tell you that the brand's purpose is not any or all of the functions above.
WD-40's purpose is to create positive lasting memories.
I love that!
WD-40 did not start with that purpose in mind. The purpose arose from a pivotal moment the company had in the late 1990s when it reconsidered its identity.
Ridge took the CEO role in 1997. That year WD-40 had 165 employees and net revenue of $137.9 million. WD-40's business was almost entirely U.S. based.
In 1999 Ridge and his team articulated a vision to take the brand global. To become a global brand, they realized the business needed to change.
Ridge began with an insight: "micromanagement was not scalable." If management was always involved, the product's distribution would remain short-range. That insight, coupled with Aristotle's observation that "Pleasure in the job puts perfection in the work" inspired Ridge to lead the company to change its focus.
WD-40 switched to a model that focused on people, purpose, passion and product, in that order.
The WD-40 Tribe
Are you familiar with Maslow's hierarchy of human needs? Abraham Maslow was an American Psychologist who formulated a theory of human motivation. The hierarchy depicts the order of needs humans are motivated to fulfill from the bottom up.
Maslow's Hierarchy of Needs
In a presentation Garry Ridge gave at the Woohoo Inc. Happiness At Work Conference in 2018, he noted that most companies only focus on the bottom two levels. Few companies addressed employees' need to belong let alone their needs to build self-esteem and to realize their potential and express their talents (self-actualization).
Prioritizing people meant creating a culture where WD-40 employees could find self-fulfillment.
To support a self-fulfillment environment, WD-40 set out to craft the brand's purpose, culture and marketplace mission. Fans of Simon Sinek will recognize this as the brand's "why," "how," and "what."
Simon Sinek advises that "People don't buy what you do. They buy why you do it. And what you do simply proves what you believe." Similarly, employees come to work more motivated to serve a purpose than to sell a product.
WD-40's purpose is to create positive lasting memories, to solve problems, to make things work smoothly and to create opportunities. No mention of a product there.
Why the focus on creating memories? As Garry Ridge explained in his presentation, it's because at the end of the day all you've got are memories.
Anchored with the purpose of creating positive lasting memories, the real magic happened in creating WD-40's values. Values serve as guidelines for behavior, not constraints, and enable employees to make decisions that are in line with what the brand stands for. Where the purpose motivates people, the values empower them.
WD-40 clearly expresses not only what their six values are but their priority order.  The first value is "We value doing the right thing" and it presides over the other values. If there is any question of how to proceed, doing the right thing prevails.
The other five values are:
We value creating positive lasting memories in all our relationships.
We value making it better than it is today.
We value succeeding as a tribe while excelling as individuals.
We value owning it and passionately acting on it.
We value sustaining the WD-40 company economy.
Each value is followed by a paragraph describing what the value means.
WD-40 believes so strongly in their values that they call themselves a tribe as they aspire to behave like one.
Interviewers ask job candidates "Do our values resonate with you?" WD-40 uses the values to screen in the right employees to protect its culture.
Lastly, WD-40 crafted a mission, which I usually call a brand definition, which articulates specifically what they do and for whom. WD-40's mission is:
… to deliver unique, high-value and easy-to-use solutions for a wide variety of maintenance needs in workshops, factories and homes. We market and distribute our brands across multiple trade channels in countries all over the world.
The mission is the specific way WD-40 expresses its purpose and values and gets to show its expertise.
WD-40 Culture in Practice
To approach the ambitious vision of taking WD-40 global, the company needed to gain knowledge about new markets and other facets of international business. To encourage employees to acquire new knowledge, WD-40 aimed to cultivate a learning culture.
This comes straight from the brand's DNA. How else would those first three employees have endured the first 39 tries and comeback to discover WD-40?
WD-40 does not use the word "failure." They have "learning moments." Learning moments are valued and recognized as a part of the knowledge acquisition process.
People who do not fear mistakes learn from them. Over time their acquired knowledge helps them exercise good judgment and advance the brand by sharing their expertise.
In addition to learning, WD-40 nurtures a culture of accountability. Tribe members take WD-40's "Maniac Pledge":
I am responsible for taking action, asking questions, getting answers, and making decisions. I won't wait for someone to tell me. If I need to know, I'm responsible for asking. I have no right to be offended that I didn't "get this sooner." If I'm doing something others should know about, I'm responsible for telling them.
This pledge makes it clear that WD-40 values accountability and discourages passing the buck.
WD-40's Secret to Success
Garry Ridge recently told CNN "If you take care of your people, they take care of your customers and your customers take care of your shareholders. And we have great people."
There you have it – WD-40's secret to their success. How successful have they been?
Over the 20 years that WD-40 has implemented their people-first model, employee engagement scores have risen from the 30-something percent range to 93 percent in 2018. The number of employees has tripled from 165 in 1997 to 495 in 2019.
Net revenues have also tripled from $137.9 million in 1997 to $423.4 million in 2019. And what Wall Streeters want to know…the stock price has soared from the $21-27 range in 1999 to over $180 in 2019, an eightfold increase.
How can your brand learn from WD-40 and reap similar benefits?
Ensure your brand purpose is meaningful. It should work for the greater good of the organization and motivate people.
Craft values that support the behavior you want to encourage. You can't be a part of every brand transaction. Empower employees to act on your behalf in a manner that reflects what your brand stands for. If you haven't delineated your values already, involve your employees in the process.
Live your values. Employees follow your lead. Values do no good staring at the organization from a poster and getting an occasional glance. They need to be actively employed for your brand culture to thrive. Ask job candidates if your brand values resonate with them to help ensure a good fit. Turn away those who do not embody those values, even if they are super star candidates.
Clearly define your brand's mission or "what." A good starting formula for this is: We [what you do] for [your audience] that they can [benefit they get]. As you can see from WD-40's mission, the result does not always take this form but contains these elements.
Foster a culture of learning and accountability. Model the learning culture by sharing your learning moments with employees. Develop your brand's accountability pledge. Take it publicly yourself and then ask employees to make the pledge. Reward accountability and initiative, and model those too.
Putting WD-40 into Action
If you have none or even a few of these pieces in place, executing all of these brand elements can seem daunting. But you don't have to do it alone. If you are more than a one-person organization, involve your employees, especially long-time employees that you sense embody the values you want your brand to represent.
Begin with discussions on your purpose – your "why" – and work from there.
As you may have guessed by now, one of WD-40's 2000 documented uses is removing red wine stains from white carpet. In the interest of research, I gave that a try.
A hat tip and my gratitude to Todd Smith for his helpful video on how to use WD-40 on a long-standing red wine stain, in conjunction with a regular carpet cleaning solution.
Well, how did the carpet fare? Much better.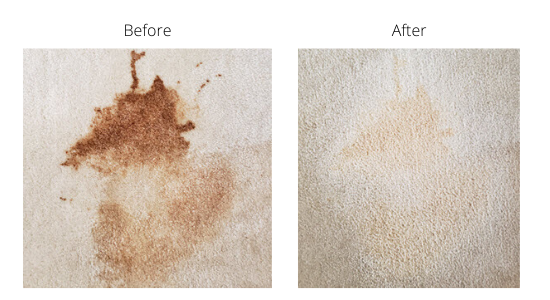 I am convinced that had we used WD-40 promptly, I would have been able to remove the stain entirely.
Despite the improvement, we have put replacing this 27-year-old carpet on our to-do list. The only decision is what color.
I'm thinking…Bordeaux. Or maybe Burgundy? Definitely NOT white.
If you liked this post, you'll love the next one.
To have future posts sent to your inbox...