This post is based on excerpts from my book, Teenage Wastebrand: How Your Brand Can Stop Struggling and Start Scaling.
Several of my teenage memories recall disagreements and negotiations with my parents over my curfew.
Until the middle of my senior year in high school my parents insisted I be home by midnight. Most of my friends were a year or two older. None of them had such an early curfew.
I made such a stink on my 17th birthday — when I got my driver's license — that my parents relented.
"Okay, 12:30 am," they said.
I rolled my eyes. I still had the earliest curfew.
The strange thing is that I didn't always want to be out later than 12:30 am. But I wanted to be the one to decide when I came home.
When Adolescents Assert Independence
Wanting to make decisions for myself was one way I was asserting my independence during high school.
Asserting independence is a key component of adolescence.
In psychology, this is known as the second separation-individuation and is credited to Peter Blos, who identified the stage as one where an adolescent needs to establish a self that is separate, distinct, and individual.
(Margaret Mahler identified the first separation-individuation as occurring during the first years of life.)
If you have parented teenagers, you know it as the time period beginning at the end of elementary school or in middle school when your children suddenly become much less interested in sharing their day or being with you and much more interested in their friends.
You shift from being in complete control of their schedule and activities to being happy to know where they are and having some idea of what they are up to.
Making this transition requires a parent to move from a control mindset to one akin to a coach.
A coaching mindset educates and directs with the aim of having the coachee make good decisions and perform well in the moment.
Some parents transition well to this phase. Others find it difficult.
When Brands Assert Independence
If you are the founder of your business, you have a similar trajectory.
As a start-up and early-stage company, you hired people to execute your vision and had a hand in every decision.
If your brand has had success, though, at some point it will become impossible for you to be that present, nor might you be interested in every little decision.
Meetings start to take up most of your day.
Some founder-leaders are okay with that and have the skills to shift from vision provider to director, but not all do. Some are interested in running the day-to-day operations, others aren't.
Dangers of a Brand Asserting Independence
Brands asserting their independence hit a sales or other operational plateau, just like other brands in adolescence.
If not addressed, brands asserting independence risk operational strains, low morale, financial handicapping, damage to their reputation, and CEO unhappiness.
For these brands, if the skill set to scale is missing, management's response is often to ask employees to work longer and harder than they already are.
A lack of effort from employees may not be the problem though, so this pressure strains the firm's operations, as it fails to lift sales or production.
Sustained over time, that pressure and the long hours demanded will also depress employee morale.
Some employees will leave.
If the business owner and top management don't enjoy recruiting, interviewing, and hiring, those positions may remain unfilled, straining operations and remaining employees even more.
The company might seek outside funding for initiatives that management believes will solve the problem like new software or increased distribution.
Investors might look at the intent the firm has for the funding, the brand's current position, and the leadership and see the lack of skills to scale. They may deny funding or require new leadership before granting it.
Employees who have left, as well as those who remain, may share their frustrations and disappointment with the brand with their friends and family.
As that information travels, the brand may gain a reputation as not being a good place to work.
High-caliber candidates who have done their homework may not be interested once they hear this. Fewer candidates may consider employment there. Talent acquisition will then take longer and cost more.
Perhaps most tragically, the business founder no longer enjoys leading the business. They feel burned out, unhappy, and frustrated. This makes them less fun to be around and less effective at leading.
Why Clay Collins Stepped down as Leadpages CEO
When Leadpages Founder Clay Collins announced that John Tedesco would succeed him as CEO, he never said he did not have the skills to scale the company.
But in his candid post on July 27, 2017, the message was there between the lines:
During our rapid growth, the CEO role has shifted dramatically, and I wanted to pass the baton to someone with scaling in their DNA….
I'm really proud of what we've accomplished since Tracy, our technical cofounder Simon Payne, and I founded Leadpages in January of 2013. We've grown to 175 people and $25 million in recurring revenue…We have over 46,000 paying customers and have raised $38 million in funding.
 All in all, I think I'm a pretty good $0-$20M startup CEO. But we're well beyond that now and it's time to have the scaling dude in the seat to take us to $100M+. And that dude is John Tedesco." – Clay Collins, LeadPages Founder 
Collins still represented Leadpages (and recently purchased ecommerce firm, Drip) on podcasts and webinars and at conferences. He became board chairman at Drip, and launched Nomics just two months after he promoted Tedesco.
Why Reid Hoffman Stepped down as LinkedIn CEO
Sometimes a founder has the skills to scale the brand, but isn't interested in that role.
Reid Hoffman was the founder of LinkedIn, and CEO for their first five years.
Hoffman loved the early stages of building the company which involved devising strategies, innovative problem-solving, and developing technologies.
As LinkedIn grew, though, he saw the nature of the CEO role changing.
At 50 people and beyond, a CEO increasingly has to focus on process and organization, and that wasn't what I was passionate about. For example, I didn't like running a weekly staff meeting. I could do it, but I did so reluctantly, not enthusiastically. I'd rather be solving intellectual challenges and figuring out key strategies, not debating which employees should get a promotion or configuring project timelines. – Reid Hoffman, LinkedIn Founder
This insight, which came just two years into LinkedIn's existence in 2005, incited Hoffman to replace himself as CEO.
He hired Dan Nye in early 2007, handing the mantle to him and keeping the product development piece for himself. Nye doubled the size of the company by building a sales department and rebuilding the executive team.
In 2009 Hoffman hired Jeff Weiner so LinkedIn could have a CEO who owned the product strategy piece as well.
Weiner orchestrated the sale of the company to Microsoft in 2016 and continued to lead as CEO until June 2020 when he handed the reins to Ryan Roslansky.
Hoffman became executive chairman of LinkedIn's board when Weiner became CEO, and a partner in venture capital firm Greylock Partners. He still consulted with and advised Weiner on occasion, but focused on his board seats representing Greylock at firms like Airbnb and Coda.
Should You Stay or Should You Go?
Like the parent whose middle-school child no longer wants to play with them, a founder can suddenly notice their brand's struggles and wonder, "How did I get here?" (Cue The Talking Heads' "Once in a Lifetime." Unfamiliar? See the Just for Fun section below.)
Mired in day-to-day operations, your brand's changing needs can sneak up on you. It's hard to find time to view the big picture.
If your brand exhibits some of the danger signs mentioned above, you can begin to assess whether your brand is asserting independence by answering these questions:
Are you feeling burned out?
Do you dread going to work or meetings?
Is your brand experiencing high turnover?
Are you having trouble securing funding for your brand?
Do you yearn for the way things were in the early years of the company?
Do you hate interviewing and hiring?
Does your brand have long-standing unfilled positions or gaps in expertise?
Do you feel like you are out of ideas for your brand?
Do small issues often pop up and get out of control?
Answering yes to two or more could signal the need to reassess the skills your brand needs at the helm.
Then you need to be honest with yourself about how your skills match up and whether you have the interest to manage the brand the way it needs to be managed to grow.
If you are interested, getting further education, coaching, and peer CEO-group support could help.
If not, you may need to consider finding a new CEO.
Independence Changes Everything, Including Curfews
Anyone who guides an adolescent has to realize when to give them independence.
For my parents, it was the minute I went to college.
Thanksgiving of my freshman year was the first time I returned home. My high school friend group was gathering two towns away. I asked to have the car for the evening.
My father handed me the keys and asked when I thought I would be home.
I was in no mood to be constrained and replied "3 am."
My father said "Okay."
I nearly fell over. And I couldn't leave it alone.
"Wait, what? You're okay with that? After insisting I be home by 12:30 am a few months ago?"
My father replied, "You're not living full-time under our roof anymore. You have your own life. You need to make your own decisions. We've done what we could do to help you make the right ones."
How did you assert your independence as a teenager?
***
Art History, Discombobulation, and the Big Screen, Oh My
Steve Pockross, CEO of Verblio, told me that asserting independence was the brand adolescent symptom that resonated most with him, because he was the CEO hired to take over from the founders.
Steve interviewed me for his podcast Yes, And Marketing in early March. With a fondness for impromptu questions, Steve got me to talk abut art history, tea, the word discombobulated, and brand adolescence.
Check out our fun, wide-ranging conversation here.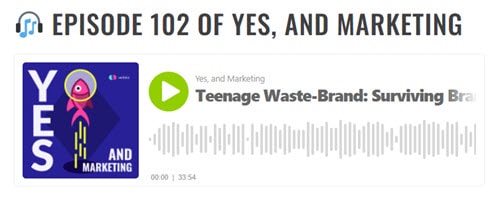 While I long to travel overseas, my visit April 21 will be virtual. I'm honored to be speaking at You Are the Media's Online Offline event, which will be in-person for those gathering at the Lighthouse in Poole, England and remote for the rest of us. Look for me on the big screen. Details here.
***
Just for Fun
As soon as I penned "How did I get here?" in the main article, The Talking Heads' "Once in a Lifetime" began playing in my head. Here's the original video for it, a fun watch. (3 minutes, 44 seconds)
You may have also recognized my play on The Clash's "Should I Stay or Should I Go?" (3 minutes 10 seconds video) Foolish as I was in college, I stayed in my room while they rocked at Vassar my freshman year.
Top photo by Jan Tinneberg on Unsplash
If you liked this post, you'll love the next one. To have future posts sent to your inbox, click here to subscribe.