Are you good at remembering names?
Even if you aren't, I bet you could recite the names of the characters on Downton Abbey.  Or Mad Men.  Or The Big Bang Theory.  Or whatever TV series you enjoy.
You know the characters well now, but you didn't the first time you saw them.
You got to know them over several episodes through the repeated use of their names, their actions, their expressions, and most importantly, their stories.
Downton Abbey is a particularly notable example of this phenomenon for the sheer number of characters involved.  Let's take a closer look.
In the first season, there were 7 episodes during which we were introduced to 9 members of the Crawley family and 11 household staff.  By Season 4 (the most recent), the character count had ballooned to 29, many of them new.
Not only do many people know their names, but they can rattle off trivia about their temperaments and personal histories.
When Downton Abbey airs, 8 or 9 weekly episodes per year, viewers make an effort to watch it.  It's like having 8 or 9 visits in a two-month span.  And by the end of your first set of visits, you have a relationship with the characters and with the Downton Abbey brand.
The savvy marketers at PBS have created other ways for us to engage with the brand the other 10 months of the year, several of them on the PBS website.
There are personality quizzes. The current quiz helps you discover which Downton bachelor is right for you.  (Yes, I took that one.) A previous quiz determined which character you would be.  (I was Isobel.)
You can watch past episodes.
There are trivia quizzes on specific episodes.
You can watch videos where the actors speak about their characters.
The Downton Abbey brand is a relationship marketing juggernaut.
What is their secret?  They give people a reason to come back.  People come to be entertained.  Downton Abbey delivers.
How can you apply their marketing method to your brand?
Offer prospects and customers reasons to visit your brand.  Engage and reward them for doing so.
This does not mean you need to spend millions of dollars and hire dozens of actors.  In fact, I urge you to find the sweet spot of marketing content and engagement – marketing that is low cost to you and of high value to your audience.
Creating quizzes and videos for their website probably costs PBS little but enables them to entertain millions.  Posting past episodes is a no-cost way for them to reuse their content.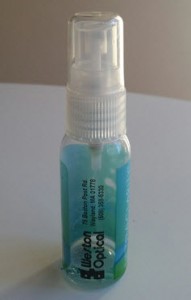 Here are some low cost, high value relationship marketing tactics from other businesses:
Weston Optical provides endlessly patient and candid customer service. They also give free bottles of glass cleaner with the purchase of glasses and will refill them anytime you want for free.
Louis Anthony Jewelers tracks birthdays and anniversaries and will call customers to remind them. They also keep a registry incase the celebrant has expressed interest in a particular piece of jewelry, making choices easier and less risky.
Webber & Grinnell Insurance sends out newsletters that educate their customers on insurance topics and offer helpful tips. They also post the articles to their website for online prospects to find.
Chain restaurants like Ben & Jerry's, Panera Bread and Five Guys host fundraising days where they donate a small portion of the proceeds to local school PTAs.
Done consistently, low-cost high-value benefits like those above will generate repeat visits that build a relationship with your brand, whether the visits are in-person or to your website.  Your audience will come to know, like and trust your brand.
Patient relationship building can help a prospect become a customer and an existing customer become a repeat one.  It is particularly helpful if your offering is complex or expensive, requiring prospects and customers to see the long-term value of it.  Offerings in these categories are tough to explain and to close the sale in a single encounter.
Gestures like these also inspire positive word-of-mouth and referrals.
To be successful, the reason you give people to visit your brand must be valuable to them but not devalue your brand.
And now I have to go to the dark side with you for a moment.
Steer clear of using discounts on a regular basis.  Customers that become accustomed to coupons, sales and other discounts resist paying full price and value your brand less.  This is the bane of many department stores that have used discount sales so frequently that they find themselves unable to generate traffic without them.
Buying your way into your prospects' hearts doesn't instill trust in your brand.  Just the opposite.
Deals are okay on limited basis.  And remember to always offer your best deal to existing customers.
Back to the bright side.  Brainstorm low-cost high-value perks you can offer by looking at the problem your brand solves and the causes that your audience supports.  Pick one or two, test them out, and let me know how it goes!
If you liked this post, you'll love the next one.
To have future posts sent to your inbox...