I spent some quality time with David Sedaris a couple of weeks ago.
David Sedaris is a renown writer and humorist who has authored 12 books.
He tours regularly, reading his essays and gauging audience reactions. His book tours are famous for their long book signing lines. He enjoys chatting with each reader and often asks them questions.
David Sedaris shared how he turns observations into stories and that it often takes him weeks to find an opening sentence he is happy with.
He and I spent 3 hours and 23 minutes together.
But he has no idea who I am.
Our visit came courtesy of Masterclass.
Masterclass is an online learning platform that features celebrities and renown experts teaching courses in their specialty.
My friend Ira gifted me a 14-day guest trial pass (thanks Ira!). I took David Sedaris's Storytelling and Humor course.
As I looked at the 14-day trial offer and entered my credit card, I noticed the annual membership was $120 per year.
I remembered it being $180 during the first year of the pandemic when Masterclass ads popped up daily in my Facebook feed.
I wondered "why would they lower their price?"
Masterclass Arrives Late to the Online Learning Party
Widespread internet access and the high cost of higher education in the US gave rise to a host of online learning companies.
In 2002, Lynda Weinman shifted her educational company Lynda.com from in-person webinars to online courses featuring video instruction. Online video was new then. It took a while for students to adapt to it.
But adapt they did. Lynda.com grew to offer over 6,300 courses. Weinman sold it to LinkedIn in May 2015 for $1.5 billion.
Most of the other well-known online learning players launched between 2010 and 2012: Udemy (2010), Skillshare (2011), Coursera (2012), and Udacity (2012).
Masterclass appeared in May 2015, just as Weinman was cashing in.
Like any party late-comer seeking attention, Masterclass stands out with a key difference: celebrity instructors. Their tagline: "Learn from the best, be your best."
Founders David Rogier and Aaron Rasmussen launched with 3 classes: Serena Williams teaching tennis; Dustin Hoffman teaching acting; and best-selling author James Patterson teaching writing.
Each instructor reportedly received $100,000 plus 30% of the revenue from their class.
Masterclass also invested in professional video production and set design for each course.
Classes sold for $90 each. Each class package included 10-25 videos, learning materials, interactive exercises (between students), and lifetime access.
Over 30,000 people bought Masterclass courses within the first 4 months.
Masterclass added dozens of courses each year and began offering annual subscriptions for unlimited course viewing at $180 in 2018, removing the $90-for-one-class option.
Pandemic Fuels Masterclass Growth Spurt
During the early part of the pandemic, you couldn't go on Facebook, Instagram, or YouTube without seeing at least one Masterclass ad.
The heavy ad spending worked. Masterclass capitalized on the captive audience, doubling revenues from 2019 ($44.5 million) to 2020 ($88.9 million), and adding another $29.9 million in 2021.
But when the world reopened and people began returning to workplaces in 2022, annual revenue fell to $94.9 million, a $23.9 million decrease.
Since inception, Masterclass has raised $460 million in venture capital. Not yet profitable, the revenue backslide likely made investors antsy. Subscriptions provide all of Masterclass's revenue.
In May 2022 the company laid off 120 of their 600 workers.
While layoffs reduced cost, Masterclass's survival requires raising revenues which means increasing subscriptions.
Now 8 years old, Masterclass has hit brand adolescence as it struggles to grow.
Masterclass Tries Too Hard to Fit In
In May 2023, Masterclass cut its individual annual subscription plan price by a third, from $180 to $120.
In a statement announcing the price drop, David Rogier, Masterclass Founder & CEO said, "By continuing to innovate the approach to our portfolio of content and making the platform more accessible, we're not only unlocking potential in our members, we're enabling them to realize it."
I don't know what that means.
It's a jargon-filled declaration. Was the potential of members locked at $180?
The "more accessible" part I get. It's the basic economic model we learned in school. You lower the price, more people buy.
I'm guessing Masterclass looked at their competitors, saw them offering free classes and cheaper individual courses (Udemy), and felt compelled to lower their subscription fee.
Antsy investors added pressure to sign more subscribers quickly.
Perhaps their smaller number of course offerings also pushed them to the lower annual fee.
But on an annual fee basis, they were already at the low end with the $180 fee ($15 per month). Now they are at the bottom.
Trying to fit in to your market arena by competing on price is a recipe for disaster.
Don't Compete on Price
There is a difference between having a competitive price and competing on price.
The former means your price is within the range of what your industry offers. It removes price as a differentiator so your prospect considers your brand on other factors.
The latter encourages price cutting and becomes a race to the bottom. Once you lower your price, your competitors may follow. Then what is your choice? Lower it again?
Competing on price destroys brands, especially premium ones.
What Masterclass Needs to Learn
Masterclass offers a premium product. Professionally produced, entertaining classes taught by recognizable experts and celebrities.
They have been challenged all along to get users who are attracted for one class to stay and take others. (This may have been behind removing the $90 one class option in 2018.)
Dropping your price doesn't address that challenge.
Increasing your value in the eyes of your subscribers and conveying that value well do.
To do that, you need to understand your audience, their wants, and how your brand fulfills them.
A New Yorker article in October 2021 reported that Masterclass had an unusually high renewal rate of 52 percent after one year. The typical student watches 10 classes, hopping from subject to subject.
But, the article stated, the time subscribers spend watching classes does not relate to their likelihood to renew.
Masterclass doesn't know why their subscribers renew.
In the article, Masterclass's chief product officer says of his efforts to understand and guide subscriber behavior, "Asking them why they like a class doesn't give you very reliable data."
This tells me that while Masterclass may have done lots of research to get class feedback, they don't yet know the segments of their audience well enough to know what attracts them and what makes them stay.
It is true that people have a hard time relaying why they do what they do. That's where consumer insights gathering techniques shine, and how I've helped my clients.
Unearthing customers' motivations requires creativity. You must ask the right questions to get the answers you want, and often they are not direct or obvious questions.
The only way Masterclass will surmount their brand adolescence and get into the black is to get clarity on their customer segments, understand their motivations, and craft messages and services that resonate with them.
My Masterclass Experience
I only managed to complete one full class before my 14-day trial ran out.
David Sedaris' course on Storytelling and Humor gave me several tips I'll use in the future.
His approach also made me feel good about my own. We're both students of the world, observing often, jotting down experiences, and asking good questions.
I did not subscribe, however.
Masterclass is known as the Netflix of online learning. A binge-worthy distraction is not what I need right now!
Have you ever taken a Masterclass?
***
For the Adolescent Brand in Your Life
If you and someone you care about has a brand struggling to grow, pick up a copy of my book, Teenage Wastebrand: How Your Brand Can Stop Struggling and Start Scaling.
It also makes entertaining prep for your 2024 planning!
Amazon is running a sale on the Kindle version right now ($3.36). Nab your ebook here.
Or grab the audiobook here. I narrated it myself!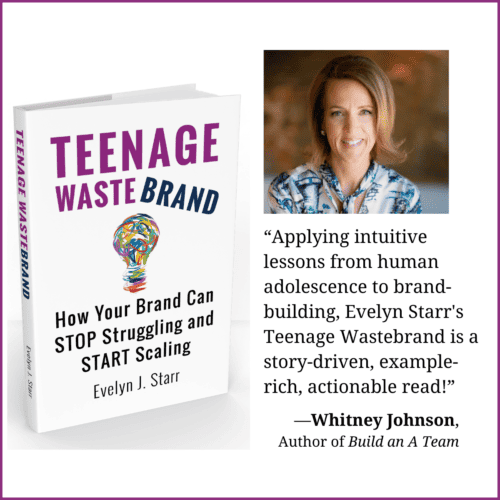 ***
Just for Fun
Masterclass's ubiquity on social media platforms during the pandemic made it ripe for parody.
Andy Rowell Teaches Pooping (1 minute, 44 seconds)
Steve Emerson's Masterclass on Daddy's Money (2 minutes, 12 seconds)
And of course SNL delivered a Masterclass Quarantine Edition (2 minutes, 43 seconds), and another Masterclass Quarantine Edition (2 minutes, 58 seconds).
Enjoy!