My son AJ has always had a penchant for colorful clothes.
Orange is his favorite color. A fair portion of his wardrobe reflects that, along with an ample array of reds and greens.
On November 11, I sought to replace a beloved, well-worn pair of Nike orange sweatpants for him.
Since he liked that pair so much, I began my shopping on the Nike website.
I found a pair AJ liked. But every time I tried to check out, I got an error message.
I decided that perhaps they were having technical issues and I would try again another day.
On November 14, I returned. Looking to save money, I searched Nike promotions and found I could get free shipping and 60-day free returns by creating a Nike account, so I did that.
This is a big deal.
I hate promotions flooding my inbox and am careful who I give my email address to.
Now that I had free shipping, I chose a second pair of sweatpants for AJ to try.
But the cart failed to display the items or even show the sizes I'd chosen. Who wants to pay for something they can't see to confirm?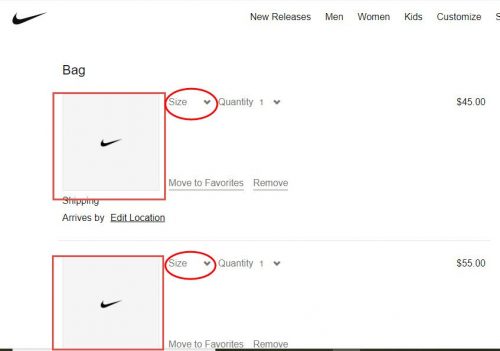 I emptied the cart, refilled it, and clicked the check-out button. The check-out page wouldn't load.
Jumping Hurdles for Nike
I used live chat to contact customer service and explained the problem to Angelica, the rep who responded.
She said the only browser their website works well with is Google Chrome.
That's what I was using.
Angelica then hit me with a flurry of instructions.
I needed to find my settings, clear all my browsing data which will log me out of all my accounts, and restart my computer. She also wanted me to call my bank to confirm my billing address. If I still got an error, I should call customer service by phone and they could take my order.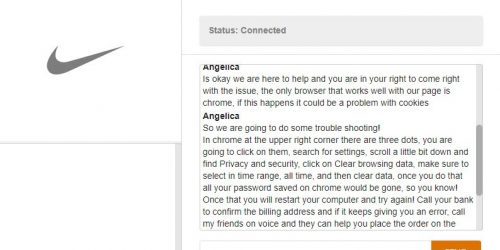 Are you kidding me?
Now let me be clear. I didn't blame Angelica. I'm sure she was doing her best to help given the guidelines Nike gave her and her experience helping other website users.
That's not the issue. The issue is…
How does a major brand like Nike have a website that only works well with one browser and requires so much work on the user's part to make a purchase?
I tried clearing my browser data and restarting.
No difference.
At this point I was so done with Nike.
I deleted the account I had established less than an hour ago.
Because I am a research hound, and because I was SOOOO frustrated, I searched to see if anyone else had had trouble with Nike's website.
On Twitter I found dozens of complaints from the past three years and more of Nike's "clear cache and cookies" advice.
Nike's website also experienced crashes on Black Friday in 2017 and on November 24, 2020. Shoppers were livid as the brand introduced new styles those days. Those who could not get the website to function missed out.
For a brand whose long-time motto is "Just do it," it was amazing that their website couldn't.
Nike Wants to Get Personal with You
This was even more surprising since Nike adopted an aggressive online strategy in 2017.
Their initiative, dubbed the "Consumer Direct Offensive," entailed a "Triple Double" strategy: "2X Innovation, 2X Speed and 2X Direct connections with consumers."
The initiative aimed to increase direct-to-consumer sales by integrating Nike's apps with its retail stores. Nike+ members could use the Nike app in a Nike store to request fitting rooms and shoe sizes instantly, receive special offers and exclusive products, and check out using the app without waiting in line.
Other Nike apps, like their SNKRS app launched in 2015 for sneaker fanatics seeking limited-edition sneaker lines, have helped Nike target its consumer segments better and build closer relationships.
Using the data gleaned from its portfolio of apps, Nike designed and opened two new store concepts last year, House of Innovation in New York and Shanghai, and Nike Live in Los Angeles. The continuous data flow from the apps informs Nike's store merchandising strategies and product forecasts.
Cutting Out the Middle Man
Also implicit in the Consumer Direct Offensive was Nike's intention to become less dependent on intermediary retailers.
As Nike's initiative increased digital and in-store Nike sales, the brand began shedding some of its wholesale accounts.
Nike terminated its two-year pilot to sell products via Amazon Retail in November 2019. Nike had only agreed to the pilot in 2017 in the hopes that Amazon would better police counterfeit and third-party vendors selling the brand.
That didn't happen.
"Over the past few years, we have shifted from a legacy, wholesale distribution model to investment in a model that gives our consumers a more premium shopping experience," CEO John Donahoe said on a conference call when they announced the Amazon departure.
This summer Retail Dive reported that Nike was closing nine other wholesale accounts including Dillard's, Bob's Stores, and Zappos.
Asked about the closures, a Nike spokesperson responded, "As part of our recently announced Consumer Direct Acceleration strategy, we are doubling down on our approach with Nike Digital and our owned stores, as well as a smaller number of strategic partners who share our vision to create a consistent, connected, and modern shopping experience."
I would not say my experience on their website qualified as consistent, connected or modern.
Nike Digital Sales Soar During the Pandemic but Total Sales Fall
Nike's digital strategy positioned them well when the coronavirus hit. By the end of June 2020, Nike's ecommerce app had been downloaded more than eight million times.
Consumer use of its workout apps more than tripled during the company's fiscal fourth quarter, March-May 2020, peaking in April at nearly five million workouts. App sales grew more than 60 percent.
The brand's total online sales for their fourth quarter jumped 75 percent from the year prior.
Online sales comprised 30 percent of Nike's total revenue, a goal the company had aimed to reach by 2023.
But the jump wasn't enough to bridge the gap caused by pandemic-forced store closures. Revenue declined 38 percent to $6.31 billion for the quarter, over $1 billion less than analysts had estimated.
Nike's first quarter sales, covering June-August 2020, rebounded to $10.6 billion, but were still one percent below the year prior.
Marketplace Pulse reported in October 2020 that Nike was averaging 100 million visits per month to its website and that its app was one of the ten most-downloaded shopping apps.
WebsiteIQ showed that in November 2020, Nike.com had 29,193,317 desktop computer visitors. Presumably, not all of them were there to download Nike's app to their phone. Many were likely there to shop.
I wonder how many of them had website function issues and bailed. Maybe a better functioning website would have helped Nike close its sales gaps more.
How Your Brand Can Best Nike's Performance
Nike leaves money on the table every time a prospect goes to Nike.com, encounters trouble purchasing, and leaves without buying.
Don't let your brand make the same mistake. This is an arena where being a smaller and more personal business can allow your brand to outperform Nike.
Here's how you do it.
Have a website that functions well with many browsers on computers and mobile phones. Make it easy for customers to find what they want and buy it. Frustration is not an attribute you want associated with your brand. Online buying has accelerated during the pandemic and is not going back.
Test the website regularly by shopping on it like a customer. Run tests using computers and mobile phones, in different browsers, to make sure it is functioning well however your customer chooses to access it.
When a customer contacts you, resolve the issue for them. Angelica should have taken my order over the chat, offered to have someone contact me by phone, or to call me herself to take my order.
Understand where your customers seek to buy your product and make those touchpoints the best possible experience. Nike clearly understands this as they shed wholesalers to "provide a more premium buying experience." Knowing Nike.com has been getting 100 million visits a month, Nike is disrespecting its own strategy with a poorly functioning website. And they are losing sales as a result.
Craft thoughtful buying and service experiences for your customers. They will return often and tell their friends about their experiences too.
My Path to AJ's Orange Sweatpants
Life is hard enough during the pandemic and otherwise – customers should not have to work to buy from you.
And I was done working with Nike.com.
But not with Nike.
The easiest path to get AJ what he wanted was to find the same sweatpants elsewhere.
With a quick Google search I found them 20 percent off with free shipping from Macy's.
Check out went smoothly and took less than two minutes.
It's exactly what Nike's Consumer Direct Strategy sought to avoid – a discounted purchase through a retail intermediary and no direct relationship with me.
They blew their shot.
But AJ looks fabulous in his new orange sweatpants!
News on My Forthcoming Book
I've been getting an education in the publishing business this fall, including types of editing (developmental, substantive, copyediting, and proofreading), copyright laws, and testing title names.
I'm thrilled to tell you today that the title is….
Drum roll….
Teenage Wastebrand: How Your Brand Can Stop Struggling and Start Scaling
I've just begun work with a cover designer. The publication date will be later this winter.
I'm looking for early reviewers and book launch team participation.
Early reviewers receive an Advance Reader Copy (ARC) of the book (unproofed), in the hope that you will leave an honest review when the book is published. I expect to have ARCs in PDF form in early-mid January, hard copies a little later.
Book launch team members would help me get the word out once the book is published.
Please let me know if you'd like to do either or both of those! I'd love your help.