In fall of 2014 I became obsessed with getting a standing or treadmill desk. The media produced article after article about how excessive sitting was killing us and Susan Orlean just looked so cool at her treadmill desk.
My initial mania abated as I delved into my research and testing phase. A treadmill desk required a large footprint and would have meant giving up my beloved desk. Visions of me immersed in my writing, forgetting to walk and crashing off the back of the treadmill were…troubling.
After my third visualized crash the treadmill desk idea was out.
A standing desk still appealed.
I placed a large blue plastic tub formerly used as a toy bin on top of a two-door cabinet that is the same height as my desk and then I perched my laptop on top of that. Voilà! A no-cost trial.
I loved it. It felt so much better than sitting all day.
After a few weeks I was ready to invest in a something a little more professional. I bought a handmade bamboo laptop stand in the shape of a puzzle on Etsy.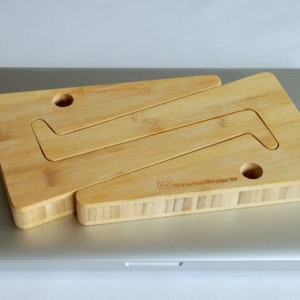 The seller's name was Eveline which I took as a good omen. Eveline answered the questions I emailed about the stand within an hour even though she was in Belgium and I was six hours behind in Natick, Massachusetts. The buying experience was fun.
As the daughter of an artist I liked the idea of supporting a seller of handmade goods.
A Crafty Brand is Born
Etsy was born in a Brooklyn apartment in 2005 when 25-year-old Rob Kalin wanted a place to sell his handmade furniture online. He partnered with friends to set up an e-commerce platform exclusively for craft makers to sell their handmade goods.
A relentless idealist, Kalin viewed Etsy more as "an art project" than a business. He mandated that all items for sale on Etsy be handmade by their creator.
As CEO, Kalin infused the company with a culture that embraced emotional candor and consensus building. He also offered progressive benefits such as paid parental leave, meditation and yoga classes on site, and free gourmet food.
Etsy's mission reflected Kalin's aspirations to use the company as a means to affect social change: "To reimagine commerce in ways that build a more fulfilling and lasting world."
Etsy grew quickly.
Growing Pains
By 2011 the company was straining under Kalin's idealism and lack of business experience. The most successful crafters on the site were working round the clock to produce their wares to comply with Etsy's handmade-by-creator requirement. Many burned out or moved to another e-commerce platform to sell their wares.
Etsy's board replaced Kalin with Chad Dickerson, then the company's Chief Technology Officer. Dickerson oversaw improvements in Etsy's user interface to make the buying and selling process easier.
Dickerson also altered company policy to allow for a "designer" designation. A creator could employ others to produce their craft as long as they disclosed that fact on their page. It was expected that crafters would hire individual helpers on site or remotely and not a factory in China.
Anyone who suspected a seller of using mass produced means could complain to Etsy's Marketplace Integrity, Trust & Safety department. This committee investigated the complaints and worked on a case-by-case basis to reach seller-friendly outcomes.
Ten Years Old and Still in the Red
By 2015 Etsy had 1.4 million sellers, close to 20 million buyers and gross merchandise sales of $2 billion a year.
But it was not yet profitable.
Despite the progressive nature of Etsy's culture, management raised money traditionally, first with venture capital and then with an initial public offering in 2015.
With public funding came greater investor scrutiny. Etsy's stock price fell 75 percent in the first 9 months. Concern intensified in October 2015 when Amazon launched the competing site "Handmade at Amazon."
On November 15, 2016 Josh Silverman, a former eBay executive and past CEO of Skype, joined the Etsy board. Though sales were up, expenses continued to rise faster than revenues. Silverman was alarmed by what seemed like a lack of urgency on management's part to become profitable.
Last March small hedge fund Black and White Capital took a stake in the company and sent a letter urging it to "explore strategic alternatives," investor-speak for selling the company.
On May 2, 2017 the board fired Dickerson along with 80 other employees and made Silverman CEO. Silverman let another 140 workers go a few weeks later.
From an investor standpoint, Etsy seems to be improving under Silverman's leadership. Etsy's stock price has risen from $10.51 on the day that Silverman took over to the $19-$20 range. Third quarter net income for 2017 was $25.8 million compared with a loss of $2.4 million for third quarter 2016.
Etsy's Brand Adolescence Identity Crisis
Silverman trimmed the longstanding Etsy mission to "Keep commerce human."
Etsy's Mission and Values webpage retains the brand's original values and their vision of an "Etsy economy," where "…creative entrepreneurs can find meaningful work selling their goods in both global and local markets, where thoughtful consumers can discover those goods and build relationships with the people who make and sell them."
In investor calls and seller communications, however, Silverman has shifted the conversation from the "Etsy economy" to one where the customer taps Etsy to purchase "something special" but expects discounts and free shipping along the way.
To his credit, Silverman does seem to be trying to help sellers improve their businesses. Etsy published a slew of advice posts on running a craft business and packaged them as 31 chapters of "The Ultimate Guide to Marketing".
On the other hand, many sellers complain that the company is morphing into an eBay or Amazon lookalike. They report drastically reduced sales, the cessation of help from the Etsy Marketing Department to market their businesses and pressure to reduce their shipping rates which would cut into their profits.
Etsy is a brand in adolescence in the midst of an identity crisis.
Etsy's brand DNA is in that vision of an online farmers' market for crafters. In trying to grow sales via discounts and lower shipping rates to make investors happy, Silverman risks diminishing Etsy's point of differentiation and driving his seller audience away.
The Allure & Dangers of Outside Investment
Brands in Adolescence can often benefit from additional funds and outside advice to get to their next stage of growth.
Our capitalist society has romanticized going public or landing a famous investor on Shark Tank. Entrepreneurs launch companies with starry eyes already looking toward the day their company lists on the stock exchange or pitches Kevin O'Leary.
But like a teenager getting in with the wrong crowd, if your investors have different goals for your brand than you do, you will face immense pressure to do what they want and to go in a direction that dilutes your brand.
Before you partner with anyone to fund your brand's next phase of growth:
Get crystal clear on your brand. Ensure your brand's mission, values, attributes and goals are easy to understand and shared by everyone in your organization. These are not nice-to-haves. They are the lens through which you and your team will make major business decisions. For example, if Silverman was remaining truer to the "Etsy economy" vision, he might try to use Etsy's aggregate transaction size to negotiate lower shipping rates for sellers with UPS or FedEx instead of squeezing sellers' margins.
Plan your growth strategically. Growing haphazardly by taking every deal that comes your way is a missed opportunity to lay the groundwork that can secure your brand long-term. Where should you grow next to best serve your audience? Can you do this organically or do you need really need outside funds?
Pay for advice. If you are not sure what move you should make next, seek a consultant's help before you commit to an investor.
Seek investors who understand your brand. And who can guide you to grow the brand without diluting its integrity.
The jury on whether Silverman lasts or Etsy survives its brand adolescence is still out.
But three and a half years later I am still happily tapping away at my standing desk for some portion of every workday.
Have you tried using a standing desk?
And do you know what growth phase is next for your brand?
If you liked this post, you'll love the next one.
To have future posts sent to your inbox...