When I woke up on April 3, 2009, I did not know that I would be joining Facebook that day.
Around 8pm I had just connected on LinkedIn with friends from my high school years when one of them wrote, "You need to get on Facebook! We have been posting some old group photos that you are in."
Talk about an incentive to join.
So I did.
Happily none of the photos were embarrassing.
Since joining Facebook I've connected with 161 friends. Though that is fewer than half the number of friends my teenage kids have, it has been worth it.
Facebook has helped me reconnect with high school and college classmates. It helps me stay in touch with distant friends and family members. It also keeps me posted on news from affinity groups I have joined.
Yet despite being on Facebook personally for 7 years, I have not made a Facebook page for my business.
A marketing consultant without a Facebook page?
Yep.
Why?
It's not for lack of audience size. One out of every seven humans is on Facebook daily. That's one billion users in case you did not want to do the math. Though about 170 million are reportedly fake users, that's still a lot of real people on the platform.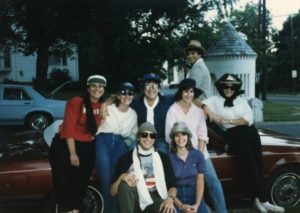 My company does not have a Facebook page because there are marketing tools that bear greater return for my brand.
Like writing newsletters to you, my fabulous readers. And building a presence on LinkedIn. I've received referrals and gained clients from both marketing efforts.
Facebook isn't worth it for my brand. And by the time you finish reading this post, you'll have a good idea of whether Facebook makes sense for yours.
Here are five key questions you need to ask to see whether you should put time and money into marketing on Facebook.
Is your audience there? With a billion people there, chances are that the answer is yes, but it is worth asking them or searching for them to be sure.
Do they want to hear from you on Facebook? This is the more telling question these days. Many Facebook users view it as a purely social media and go there like they'd go to a cocktail party: to chat with friends, to share stories, to have fun and to be entertained.
Does Facebook marketing fit with your brand? Does your brand identity lend itself to the cocktail party atmosphere? Can it be present authentically in an entertaining and story-sharing manner?
What is the opportunity cost? Ah the Economics major in me comes out. Considering Facebook marketing in a vacuum makes no sense. Look at all of the marketing options for your brand. Where does Facebook fall in the pecking order? There may be marketing tools that offer better results.
Do you have the resources to do Facebook well? Social media platforms evolve. Facebook recently changed its algorithm so that many fewer people will see any individual post on your company Facebook page. Doing Facebook well means not only posting regularly, but also promoting posts, running ads, and for some businesses, starting and managing a group.
Remember the cocktail party metaphor. To do well on Facebook you want engaging content to show your brand understands your audience and to build an emotional connection with them. And like a cocktail party, a hard sales pitch will cause people to distance themselves.
Engaging content is fun, entertaining and sometimes educational. Think something that would delight your audience enough to share it.
Which brands do that well? (You'll need a Facebook account for these links to work for you.)
Facebook is a media outlet that requires a steady stream of creative content and attention.
If after all this you think Facebook makes sense for your brand, go for it.
Bear in mind one final thought though: your website should be your flagship online presence, not your Facebook page.
Why?
Because you own your website. Whether or not you pay money, your Facebook page rents space from Facebook the organization, a.k.a. your landlord. And as I mentioned above, the landlord can change the rules or even evict you if they desire.
So make all needed investments in your website your priority. Use Facebook to engage your audience in a manner that motivates them to share your posts and drive more traffic to your website.
I'm off now to see if I can find a few more Facebook friends before my kids eclipse me exponentially!

If you liked this post, you'll love the next one.
To have future posts sent to your inbox...