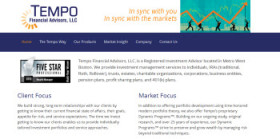 Congratulations to client Dan Traub and his firm Tempo Financial Advisors on the launch of their new website!  Tempo Financial Advisors is a Registered Investment Advisor located in Metrowest Boston providing investment management services to individuals and small businesses.
Dan launched the firm in 2008 just as the recession hit.  Tempo weathered the tough economic conditions well and celebrated its fifth anniversary last June.  E. Starr Associates planned and helped execute a fifth anniversary celebration event for them last October, and guided them through a website upgrade.
The new website looks great and is user friendly.  Check it out here.