Today is the day before Thanksgiving and I have the pleasure this year of NOT traveling.
With family in New Jersey though, I have spent many hours sitting in traffic on this day in the past.  Thanksgiving-volume car travel jams highways on the Massachusetts-New York corridor, particularly around toll plazas.  One year my usual 3 3/4 hour ride to my parents' house took 8 hours!  Now if I go, I leave on Tuesday.
Traffic jams of these epic proportions often bring consumers' wrath upon the Department of Transportation (DOT).
In recent years though, the Massachusetts DOT has engaged some smart, inexpensive, and innovative marketing to proactively combat this problem.
Yes, it's true.  I'm saying some element of the government is doing something smart.
The Massachusetts DOT has courted companies to sponsor the Allston-Brighton tolls leading out of Boston on the Mass Pike at their busiest hours in exchange for publicity.
This is a powerful, winning marketing strategy – a marketing triple play.  Consumers get free tolls.  The Massachusetts DOT gains goodwill from announcing this in advance.  And the sponsoring company gains consumers' goodwill as well as widespread publicity.
This year's sponsor is Zappos.com, an online shoe and apparel retailer whose brand is known for outstanding customer service and that aims to deliver happiness to their customers – so much so that their founder, Tony Hsieh, wrote a book about his experience building Zappos entitled Delivering Happiness: A Path to Profits, Passion and Purpose.
What a great opportunity Zappos has seized.  This is smart, innovative, and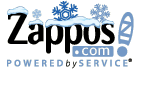 inexpensive marketing for them as well.  Let's take a look at the numbers.
Zappos is paying for all tolls at the Allston-Brighton toll booths from 5pm-7pm today.  According to the Massachusetts DOT, 16,000 cars passed through those toll booths during that time period last year.  The toll normally costs $1.25 per car, and $1 per car using a Fast Lane transponder.
Even if you assume a 25% increase in traffic through the tolls during that time period (20,000 cars, unlikely), and you assume every motorist pays the normal cost, ($1.25 for every car, unlikely given over a million Fast Lane users), the toll sponsorship cost would still be only $25,000 plus the cost of the signs announcing the free tolls.
Even if the signage costs $5,000, $30,000 is small change for a company that grosses over $1 billion in sales annually.  For that small change, Zappos is getting:
A public relations bonanza – The toll sponsorship has been reported in many media outlets including The Boston Globe, The Boston Business Journal, bostoninnovation.com, theconsumerist.com, Fox News, and WWLP, not to mention a slew of local community newspapers and major tweeting in the Twittersphere.  More exposure than $30,000 of ads could ever buy.
Public relations support from the Massachusetts DOT – they sent out the press release.
Signage at toll complex – every motorist going through the tolls will see the Zappos logo and know that they are the sponsors of this holiday gesture.
A credit notation and message on Fast Lane payers' bills, reminding them of the company's gesture when they see their statements.
Exquisite timing – all this good will and publicity arises just five days before CyberMonday.
Genius move.
A move totally consistent with Zappos's brand mission of excellent customer service to deliver happiness.
What does your company do to generate goodwill with customers and remind them of its role in their lives?  Comment below and let me know!
As for me, I'm going to relish my very short ride home tonight!   Happy Thanksgiving.
P.S.  Final cost for Zappos was $28,300.
If you liked this post, you'll love the next one.
To have future posts sent to your inbox...